A Hawkish Yellen? One Economics Firm Thinks So
By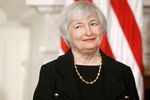 Like her or dislike her, the thing almost everyone who talks about Janet Yellen agrees on is that President Obama's nominee to chair the Federal Reserve is a dove. Doves, in monetary lingo, worry more about unemployment than inflation.
But economists John Ryding and Conrad DeQuadros, co-founders of RDQ Economics in New York, argue in their latest newsletter that Yellen could turn out to be "quite hawkish in response to higher inflation or lower unemployment."
Ryding and DeQuadros base their analysis on a close reading of Yellen's papers and speeches stretching from her academic career at the University of California at Berkeley through her presidency of the Federal Reserve Bank of San Francisco and on up to her current post as vice chair of the Fed's Board of Governors.
Patching together various formulae she has invoked, they create what they call the "Yellen Rule" for setting the federal funds rate. That's the rate on overnight loans of reserves between banks.
The Yellen Rule, they say, is the following:
r = 13 + 1.5*p -2*U
r equals the federal funds rate
p equals the Fed's preferred measure of inflation
U equals the unemployment rate
Today the Yellen Rule would call for a federal funds rate of 0.13 percent:
0.13 = 13 + 1.5*1.15 – 2*7.3
And 0.13 percent is right about where the funds rate is. Ryding and DeQuadros say that their Yellen Rule is highly sensitive to a decline in the unemployment rate, meaning that if joblessness were to decline rapidly, the federal funds rate might start rising much sooner and more than the rate-setting Federal Open Market Committee currently contemplates.
"If she holds to this discipline," they write, "… then Janet Yellen will not turn out to be the dove that many perceive her to be."
True, they continue, there's a chance she could alter her rules to justify easier money—say, by changing her mind about how low unemployment can become before inflation becomes a problem. But they write, "Having left so many footprints in the snow" with papers and speeches, "she will have difficulty taking a different path."
Hat tip to Bloomberg's Tom Keene for pointing out this paper to me.
Before it's here, it's on the Bloomberg Terminal.
LEARN MORE