Wanted: Better Research on Entrepreneurship
By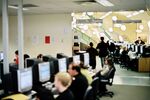 Businesses like rankings. How else to explain the seemingly endless parade of new research purporting to identify the best cities, states, countries, and solar systems in which to do business. Well, it's fine to measure the number of jobs startups have created or amount of venture financing raised. Extrapolating the data to name the "best" seems like a silly practice.
A more noble cause: Quantifying what individual places can do to attract and support more entrepreneurs, which seems to be the spirit of a new Kauffman Foundation paper that compiles data on entrepreneurship in 21 countries. Here's how authors Dane Stangler and Jared Konczal present their scorecards:
"We strongly advise against using this report to compare reported country charts or values, but instead hope that it will serve as a platform for discussions of how to improve entrepreneurship data collection."
That doesn't mean the data aren't fun to peruse. The U.S. scores well in eight of nine data sets, including those measuring education levels, tech infrastructure, and the ease of starting a new business. Despite those advantages, the U.S. scores poorly when the number of new business starts is measured against population.
Such casual observations are probably beside the point. The publication coincides with the announcement of a new initiative called the Global Entrepreneurship Research Network, which aims to standardize entrepreneurship data in hopes of understanding policy barriers to entrepreneurship.
Or, as Kauffman's Jonathan Ortmans told me last week, countries around the world have embraced the idea that programs to foster entrepreneurship are a worthwhile strategy for economic development. Now it's time to start thinking about which programs are working.