Virginia Tech's Full-Time MBA Program Suspended
Louis Lavelle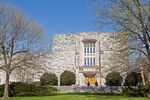 Virginia Tech's Pamplin College of Business is shutting down its full-time MBA program.
Starting next year, the school says, it will suspend admissions to its full-time program, which struggles to get about 175 applicants a year, and redeploy resources to build its part-time programs in Washington, D.C., and northern Virginia.
The graduating class of 2015, which entered the full-time program this year, will be its last, says Steve Skripak, Pamplin's associate dean for graduate programs. There are 88 students enrolled in the full-time program, he said, and courses and support activities for those students will go on as usual.
Skripak said the school's resources can better be used to grow part-time MBA enrollment, particularly in northern Virginia: "It's a huge market full of people trying to get an MBA, rather than a small town in southwest Virginia."
Pamplin's evening MBA program in Washington enrolls about 150 students, while its two-year professional MBA—which meets one weekend a month—has about 50. An executive MBA program at the school also has about 50 students.
Join the discussion on the Bloomberg Businessweek Business School Forum, visit us on Facebook, and follow @BWbschools on Twitter.