Now at $123 Million in Box Office Sales, Gravity Ends Autumn Movie Drought
By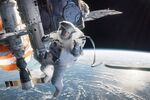 The sleeper space thriller Gravity helped Warner Brothers float further ahead of Universal Studios in the stratosphere of box office sales.
The Sandra Bullock and George Clooney vehicle posted the ninth-best opening weekend of the year last week and stayed at No. 1 this past weekend, bringing its total box office haul to $123 million in the U.S. and Canada. Meanwhile, Rush, the Formula-1 racing movie that's supposed to be Universal's latest blockbuster, has logged only $22.2 million in ticket sales since its opening four weeks ago.
After a summer speckled with hits, Gravity is the first big movie to break through in the otherwise sleepy months before the holiday onslaught. Walt Disney hasn't had a hit since Iron Man 3 in May and Monsters University in June. Universal, a Comcast property, had a hit in May with Fast & Furious 6, then another in July with Despicable Me 2. But until Gravity, the only fall movie to break into the top 20 for opening weekend box office sales was Insidious: Chapter 2.
Here's a look at how the box office has panned out month by month this year (notice that no one has really gone to the movies since July):

In terms of ticket sale tallies for 2013, Warner Bros. jumped ahead of Universal in early August and hasn't looked back. It has posted $1.44 billion in ticket sales in the U.S. and Canada this year, compared with $1.3 billion for Universal.
Here's a look at total 2013 ticket sales:

The box office winner will ultimately be decided over the holidays. On Nov. 8, Disney's Thor: The Dark World opens, followed by Warner Bros.'s Dec. 13 release of The Hobbit: The Desolation of Smaug. On Christmas, Universal will release 47 Ronin, an action film featuring Keanu Reeves as a samurai.
Norse legend. Little person. Keanu. Pick a winner.
Before it's here, it's on the Bloomberg Terminal.
LEARN MORE