Halloween Is a $6.9 Billion Unstoppable American Cultural Juggernaut
By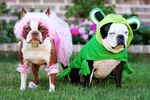 Here's some good news for those worried about the fracturing of our culture: The majority of Americans still celebrate Halloween. Almost 66 percent of adults, in fact, according to the latest survey by the National Retail Federation. There's no red-state, blue-state, or purple-state divide (costumes are another matter); men and women are equally likely to participate; millennials, baby boomers, and pets, too. Overall, an estimated 158 million people will do something on Halloween and spend some $6.9 billion doing it.
The tough economy will have an impact, though. Those earning less than $50,000 a year aren't as likely to shell out for costumes and candy as those making more, and everyone surveyed said they'll spend a little less than last year: $75.03 compared with $79.82.
Maybe this shouldn't be surprising, but the survey found that people spend more on adult costumes than kids', $2.6 billion altogether. And almost 14 percent of people celebrating will buy costumes for their pets—that will come to about $330 million. Americans will spend another $2 billion on candy. Apparently some even send Halloween cards, this year as much as $360 million worth.
Minion, from Despicable Me, is the most frequently searched costume, according to Google Shopping. And Batman is still popular. Otherwise, there are some real cultural divides when it comes to dressing up as someone else. Searches for "Duck Dynasty costume" are three times higher this year than last. The state trending the highest? Texas. Where do you think searches for "Gatsby dress costumes" are most popular? That's right: New York and California. Presumably, that's where searches for Wendy Davis-style pink sneakers are highest, too. No word yet on the popularity of Ted Cruz masks.