It's a Bad Day for the Bond Market to Be Closed
By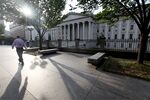 It's Columbus Day, which means the bond market is closed. Good for bond traders, who get a day off, but perhaps Washington—and the rest of us—would be better served if the market were open. With no trading in U.S. government debt, lawmakers don't have a key indicator of how the market is reacting as the country steps closer to the Oct. 17 deadline, when Treasury Secretary Jack Lew says the country will hit its borrowing limit.
Last week the market for short-term Treasury bills provided an early-warning system for the doomsday scenarios that investors give about what could happen if the debt ceiling isn't raised. Three of the largest money market funds, for example, sold out of their holdings of short-term Treasuries by the end of last week. If Treasuries showed even more stress, the panic could spread to the repo market—the overnight lending bazaar where corporations and banks go to fill their immediate cash needs. The repo market is one path by which trouble in financial markets infects the rest of the economy.
While there is no government bond trading today, there is trading in Treasury futures. Most of that trading takes place in bonds maturing in two years or more, so it's not a great proxy for short-term sentiment. So the main indicator left is the stock market, which is down just slightly this morning. It seems to be a continuation of the catch-22 stock investors have been facing throughout this crisis. As I explained last week, investors in the stock market have little incentive to sell positions if they think the government will eventually reach a deal, even if they think a selloff might provide a needed push for Washington to reach a deal. That's led to low stock trading volumes and a slight increase in volatility, but no wild swings.
The Wall Street Journal reports that lawmakers said they will keep an eye on the market today "to see whether investors, already jittery, show greater concern. That, in turn, could affect the climate for further negotiations." Lawmakers can look at the market—it just won't provide a full picture.
Before it's here, it's on the Bloomberg Terminal.
LEARN MORE