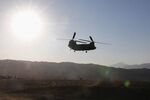 When it comes to negotiating contracts with Boeing, the U.S. military appears to be sorely outmatched. A Pentagon inspector general report from this summer, published today by our colleagues at Bloomberg News, found overcharges by Boeing totaling $16.6 million after the company overestimated how many new parts would be required. In many cases, the report said, parts salvaged from older aircraft were used on the Army helicopters.
The latest audit of a $4.4 billion contract awarded in 2008 was the fourth to find excessive or unjustified payments to Boeing. The two-rotor Chinook, which is designed to ferry troops and battlefield supplies, dates to the mid-1960s. The current F model entered service in 2006 and is built in suburban Philadelphia.
"The bottom line is that using reworked parts rather than new parts increased Boeing's profit," Bridget Serchak, a spokeswoman for the inspector general, told Bloomberg News. The Army paid Boeing for parts "that were proposed but never installed" and "is paying for additional parts that they do not need and may not use." The largest overcharge described in the July report was as much as $2.6 million for 142 Chinook engine transmission housings that the inspector general found weren't needed. The audit found Boeing, instead of giving the Army the unneeded parts, was allowed to keep them for other jobs, "even though the Army paid for" the items.
A Boeing spokesman, Damien Mills, said the company "disagrees with the IG's conclusions"—although the company itself hasn't reviewed the report yet and has filed a Freedom of Information Act request to obtain a copy while reviewing the document Bloomberg News posted online. In a telephone interview, Mills said the refurbishment work was done on a "fixed price" contract for aircraft that were in service in the Middle East and that Boeing had to assume how many new and remanufactured parts would be needed before the helicopters were returned for the work. "So there is an assumption of risk on the part of the contractor on this type of contract," Mills said.
The Army has little recourse to pursue refunds because of how the 2008 contract was written, Serchak said. This summer, the Pentagon awarded Boeing a five-year contract for 177 new CH-47F Chinook helicopters, with options for 38 more. The five-year contract was structured to save taxpayers "more than $800 million," Boeing said in its June 11 release, which sought to highlight cost savings to the government. That contract requires Boeing to give the Army any unused parts from the Chinook program, a change that was apparently based on the IG's findings.
Before it's here, it's on the Bloomberg Terminal.
LEARN MORE