Hedge Fund Chart Guru Tom DeMark Sees Dark Days Ahead
By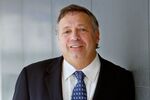 Stock market analyst Tom DeMark spends many weekends in his home office in Scottsdale, Ariz., pondering the fate of the markets. The founder of Market Studies studies the price movements of stocks, bonds, commodities, currencies, and indices to try to determine where things may be headed, and investors pay for the privilege of knowing his thoughts. DeMark has thousands of subscribers to his company's service through Bloomberg, and he has served as a consultant to Leon Cooperman and Paul Tudor Jones in the past. His only personal client at the moment is SAC Capital founder Steven Cohen, who has retained DeMark for 15 years as a special adviser.
This past weekend, DeMark says, his prognostications for the stock market started to look rather bleak. His Dow Jones Index chart covering the period from May 2012 to the present seems to be tracking, almost precisely, the months leading up to the 1929 stock market crash.

"The market's going to have one more rally, then once we get above that high, I think it's going to be more treacherous," DeMark says. "I think it's all preordained right now." He feels this is probably irrespective of how and when the crippling impasse in Washington is resolved. "If you look at the new highs and new lows on the [New York Stock Exchange]," he says, "every time we made a higher high, there were fewer stocks in the index participating in that high. It's getting narrower." And once that happens, you typically get a collapse. The opposite looks to be true for gold, which he expects is making its low right now and should start to move up dramatically.

"I'm not afraid I'm going to be wrong," DeMark says. "I'm just saying it's something to consider."