Foursquare Uses Skepticism About Online Ads to Lure Main Street
By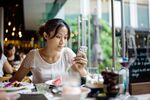 Meet another familiar Internet company salivating for Main Street advertising dollars: Location-based services company Foursquare said in a blog post today that it's expanding a pilot program to encourage businesses to buy ads through its self-service platform (that means they don't need to speak to a sales rep).
Foursquare, which has been testing the program since last year, is following in the footsteps of Google and, more recently, Facebook, which have had success selling ads to small businesses. Twitter opened its self-service program to all U.S. businesses earlier this year.
It hasn't always gone smoothly. Groupon and Yelp seem to get as much attention for upsetting small businesses as they do for delivering new customers. Research from the Boston Consulting Group earlier this year showed that for all the Web companies selling ads to small businesses, the average mom and pop is spending just 3 percent of its marketing budget online. To many companies that sell online advertising, Main Street businesses must seem like the cash cow that won't be led to slaughter.
With about 40 million users accustomed to "checking in" when they visit local businesses, including bars and restaurants, Foursquare can target people with smartphone ads when they're near a client's location. If those users subsequently check in to those locations, business owners will know, allowing them to calculate return on their advertising dollars.
That gives Foursquare a leg up on competitors whose models require small businesses to guess at an advertisements' effectiveness, the company says in its blog post: "We're moving past the days when business owners have to figure out if a 'like' or a 'click' has any meaning in the real world; now they can tell if someone who saw their ad actually walks into their store."
That's a good thing, says Jeremy Kagan, chief executive officer at online marketing firm Pricing Engine, who has been keeping tabs on the beta version of the ad program. "It's about as close as social media can get to measuring return on investment without going into the point-of-sale system," he says. On the other hand, Foursquare keeps sending Kagan ads for Arby's, he says. That's not exactly the sort of business that urban hipsters who use the app are probably looking to discover.