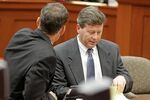 That hissing sound you hear is the wind momentarily getting knocked out of the Internet sweepstakes cafe industry.
Last Friday evening, a Florida jury found Kelly Mathis, the lawyer for a ring of Internet sweepstake cafes, aka pop-up casinos, guilty on 103 of 104 counts including racketeering and possession of an illegal slot machine or device. The verdict marked the conclusion of a criminal trial that could have major ramifications for a highly lucrative industry, which in recent years has been quietly spreading through shopping malls across the nation.
For years, members of the industry have made the argument that sweepstakes cafes—small retail outlets where paying customers sit in front of desktop computers, playing games that mimic slot machines—offer the illusion of gambling, not the real thing. Various law enforcement officials and state prosecutors, on the other hand, have argued again and again that such games constitute a form of illegal gambling. "If it walks like a duck, quacks like a duck, it's a duck," a state prosecutor said during the Mathis trial.
To date, Mathis's conviction is the first major victory for prosecutors involved in a multiyear, multistate, multiagency investigation into the storefront casinos, nicknamed "Reveal the Deal." Over the weekend, Florida law enforcement officials extolled the verdict.
"The verdict finding Kelly Mathis guilty should send a strong message that those involved in running this illegal gambling scheme under the facade of a charitable organization to help veterans will be held accountable," Florida Attorney General Pam Bondi said in a statement.
Mathis, who has yet to be sentenced, now faces the possibility of serving a lengthy period in prison. After the verdict he told reporters that he would appeal.
In the wake of Mathis's arrest in March—along with 56 other targets of the Reveal the Deal operation—most of the Internet sweepstakes cafes around the state immediately shut down. In recent months, however, the businesses have slowly begun to reopen around the Sunshine State.
But officials could see the Mathis conviction reversing this trend. As prosecutor Nick Cox told the Associated Press on Friday: "It's kind of hard to ignore a verdict like this."
Before it's here, it's on the Bloomberg Terminal.
LEARN MORE