Documenting the Harm From Brinkmanship
By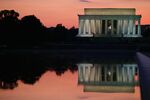 Lurching from one fiscal crisis to another has "directly harmed the economy," costing the U.S. about 900,000 jobs, according to an economic analysis released today by the anti-debt Peter G. Peterson Foundation.
The report was prepared for the Peterson Foundation by Joel Prakken, co-founder of Macroeconomic Advisers, an economic consulting firm based in St. Louis.
Brinkmanship in Washington has a measurable impact on uncertainty about policy, and this, in turn, increases risk aversion in financial markets, raising borrowing costs, according to the study. Since late 2009, the report says, fiscal policy uncertainty has raised by 0.38 percentage point the premium over the Treasury rate that typical companies must pay to borrow, the report calculates.
Speaking in advance of the report's release, Prakken says: "If every six months, every three months—now every three weeks—we face another calendar-oriented uncertainty about fiscal policy, that just can't be good."
Before it's here, it's on the Bloomberg Terminal.
LEARN MORE