Artisanal Budweiser Is Real (Sort Of)
by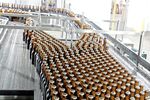 Craft beer lovers have come to expect certain things their Bud-swilling parents would have never imagined. They gravitate toward small-batch, locally brewed beers with labels detailing their carefully blended ingredients.
Perhaps it was inevitable that Anheuser-Busch InBev, the world's largest beer manufacturer, would go after these snobs with an unusual product line. Call it artisanal Budweiser. Yes, such beers exist. Kind of.
On Oct. 28 you'll be able to purchase sampler packs of small-batch Budweiser in numbered bottles indicating the Zip Code of the locality where they were brewed and craft-like details about hops quality and flavor profiles.
Here's how AB InBev introduces them in a recent press release:
"Batch 94534 (Fairfield, Calif.): Brewed with a unique blend of North Pacific hop varieties, including Cascade and Palisade, this bold, hoppy lager is 5.5 percent alcohol by volume (ABV) and offers a distinct taste of the American Northwest.
"Batch 23185 (Williamsburg, Va.): Aged on a bed of bourbon barrel staves and vanilla beans, this light amber lager indulges the sweet side and features a 5.5 percent ABV.
"Batch 43229 (Columbus, Ohio): Brewed with chocolate and caramel malts for a rich auburn appearance and finished on Beechwood chips for a crisp, clean taste, this deep amber is 6 percent ABV."
When was the last time you heard Budweiser described in such loving terms? (We're guessing never.) Granted, these are hardly "extreme" beers like the ones Dogfish Head Brewery has become famous for. But for Budweiser, they are radical.
This is the second year AB InBev has brewed small-batch versions of the King of Beers. Last year, the artisanal brewmasters at AB InBev produced Batch 91406, now known as Budweiser Black Crown, which didn't impress many beer snobs. It received a "poor" rating on BeerAdvocate.com.
AB InBev, however, may have a bigger strategy. It's unlikely that artisanal Budweiser will revive the mother brand's declining sales volume the U.S. The allure of true craft is too strong. But it might persuade younger drinkers to reconsider Budweiser as something other than "industrial" beer, as the craft crowd has
labeled it.
Perhaps they'll get a kick out of this marketing stunt and start consuming Budweiser ironically. There's nothing wrong with that. Look at what irony did for Pabst Blue Ribbon.
Before it's here, it's on the Bloomberg Terminal.
LEARN MORE