A Message From Those Who Survived Defaults: Don't Go There
By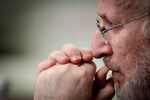 What's it like to live through a sovereign debt default? As the U.S. slides toward a possible default this week, we asked three people—a central banker, a financier, and a journalist—who lived through debt defaults in other countries.
• Mario Blejer, who became Argentina's central banker in 2002, shortly after that country defaulted on $82 billion in sovereign bonds during the worst economic crisis in its history: "I come from a country where the problems are really serious. Argentina could not pay its debts. But the situation [in Washington] is completely artificial and man-made. Some groups are exerting their power in order to blackmail the government. Being in default is a defeat. There is lasting damage."
• Bernard Sucher, an American-born entrepreneur in Moscow who was a principal in Russian investment bank Troika Dialog when that country defaulted on some $40 billion in domestic debt in 1998: "The pain in 1998 was extraordinary for banks, investors, and other businesses. We in the financial markets were just blown away." Viewed from Moscow, the current showdown in Washington looks "like playing with a Zippo lighter while your clothes are soaked with gasoline. The United States is the architect and the foundation of the global economic system, and is the world's largest debtor. No other country, even without these responsibilities, without these high stakes, would put itself through this sort of thing, with so much risk to itself."
• Nikos Konstandaras, managing editor of Kathimerini, a leading newspaper in Greece, where investors agreed to forgive $132 billion in sovereign debt in 2012 as part of a bailout to keep the economy from collapsing: "It's alarming to see the U.S. being rendered impotent by short-sighted political expediency of the kind that brought Greece to an economic and social dead end. We've seen the destruction that partisan politics wrought in Greece and cannot imagine that the U.S. will not find a way to avoid the trap of maximalist demands being pressed at the expense of the common good."
Before it's here, it's on the Bloomberg Terminal.
LEARN MORE