What Hotel Concierges Really Think of Your Dumb Questions
By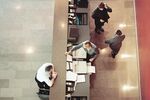 Todd Briscoe and Anna Drezen work as concierges at two Manhattan hotels. Their job is, obviously, to assist guests with all manner of requests. But what they've done with their blog, How May I Hate You, is a service to us all, as it records the funniest, most bizarre, and all-around amazing interactions the two have had during their years helping hotel guests enjoy their stay in the big city.
Drezen and Briscoe have had to field requests like, "Can you tell me where the museum of the lifelike dolls is? The museum of things that look like children?" as well as handle exchanges like this:
GUEST: Japan Pony?
CONCIERGE: Excuse me?
GUEST: Japan Pony?
CONCIERGE: I don't know what that is.
GUEST: Thank you for your kindness!
I caught up with Drezen and Briscoe on Thursday. The two have been working in hotels for about three years, having met at New York University's Tisch School of the Arts. Both are writers and actors when not making dinner reservations.
The blog started as "a coping mechanism," Drezen says. "Most of the time, when a guest is talking to you, they're not speaking like they would to an individual—they think you're an extension of the hotel brand," she says. "Recording these interactions was a way to recapture some of my sanity."
What should hotel guests know when they're seeking the help of a concierge? Drezen and Briscoe have some tips:
1. Do your homework. "You don't want to come up to the concierge desk and say, 'Well, we're here for six days. What should we do?'" says Drezen. Have some kind of a plan, and use the concierge to fill in the blanks.
2. Use the concierge to confirm your plans. Even if you've done your research, the concierge knows her city firsthand. "I like to share my plans with a concierge if only to ask, 'Is this right?'" says Briscoe. "There's no substitute for living in a particular place, and a concierge may know if the thing you've planned is closed for renovations, or if there's a better option."
3. Be nice. "We actually can do a lot of things to make your stay more enjoyable," says Briscoe. "We can send up a bottle of champagne, we can make sure your restaurant knows you're a VIP guest of ours—but we won't do any of those things for you if you're obnoxious."
4. Tipping is not necessary, but it's appreciated. "If you want to leave a tip at the end of your stay, ask the concierge you like what days they're on duty," Drezen says. "Not only will you know their schedule, but you can make sure they get your tip before they take, say, the next three days off."
Or you can just be like this hotel guest, who seemed to have a fundamental misunderstanding of Tiffany's meal policy:
GUEST: We want to have Breakfast at Tiffany's. Can you make us a reservation?
CONCIERGE: They don't actually serve breakfast.
(Guest rolls eyes)
GUEST: Well, brunch then.
Before it's here, it's on the Bloomberg Terminal.
LEARN MORE