The Shutdown Isn't Causing Flight Delays—Yet
By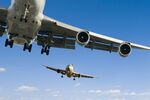 Ten days in, the U.S. government shutdown has been a non-event for airline travelers because so many federal employees are deemed "essential" workers for security and air traffic control. This has kept air travel running virtually the same as before the Oct. 1 shutdown, even as thousands of other workers' roles have been affected.
The nation's three largest airlines—United, Delta and American—cancelled only 81 of their combined 14,115 flights on Wednesday, for example, with an average of 89 percent of those flights arriving on time, according to data from masFlight, a Maryland-based flight-data service. Low clouds in San Francisco and gusty winds in New York caused greater problems for business travelers that day than any Tea Party Republicans.
Still, there's widespread concern that if the impasse in Washington persists, the enormous number of "behind-the-scenes" tasks that undergird the aviation infrastructure—work that is now halted—will begin to impede travel. On Oct. 8, the Federal Aviation Administration recalled 800 employees, about a quarter of them aerospace engineers in charge of required certification of maintenance and other work on airplanes before they can fly after being serviced. "As it carries on—certainly by November—we'll start seeing cancellations on aircraft because we can't get the FAA signed off on" maintenance work, says Tulinda Larsen, masFlight's vice president of sales and marketing.
The shutdown has delayed some deliveries of aircraft from Europe and Canada because workers who normally register the new planes are furloughed. Air routes are not being refined, which means less-optimized arrivals and departures. The work on the so-called "next generation," satellite-based air traffic control system is on hiatus, and a hearing next month by the National Transportation Safety Board on the summer's Asiana Airlines crash has been delayed.
Paul Rinaldi, president of the National Air Traffic Controllers Association (NATCA), likens the current partially staffed system to driving a car "with bald tires and the same dirty oil" indefinitely. The most critical issue for traffic controllers is that vital equipment could break down with no one available to repair it. Those kinds of problems could quickly migrate into flight delays and cancellations, says Rinaldi, a former traffic controller. "Can you run the system seamlessly for a week? Yes, we have. Can you run it for two weeks? Yes, we have," he says. "The question is, at what point are we going to run into a problem? Every day that goes by, the uncertainty does grow." On Thursday, the controllers joined several other aviation unions and trade groups to rally at the U.S. Capitol, urging lawmakers to resolve the budget conflict.
Vaughn Jennings, a spokesman for U.S. airline industry trade group Airlines for America, says the shutdown's effects have so far been minimal, apart from delayed airxraft deliveries. "With fewer FAA employees on the job, some non-critical inspections, registrations and certifications will take longer, however, we have full confidence that the safety of the system will not be compromised," he wrote in an e-mail.
Federal workers who have been on the job since Oct. 1 won't be paid for that time until the shutdown is resolved; checks going out on Oct. 15 will probably amount to from 50 percent to 60 percent of their usual size, using some funds left over from the 2013 fiscal year, NATCA spokesman Doug Church says. The income disruption "weighs on everybody's mind," he says. "I'm not saying it contributes to any kind of safety situation at all, but it's an issue. It adds to the tension and anxiety."
Before it's here, it's on the Bloomberg Terminal.
LEARN MORE