The First Sign State Laws Crimping Obamacare May Not Stand
By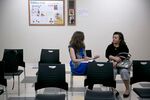 In so many ways, geography is destiny when it comes to Obamacare. The cost of health plans offered on the new insurance marketplaces varies widely from state to state. Access to the expanded Medicaid program depends on where you live because many GOP-led states opted out of the expansion.
And for those who need some help figuring out how the new insurance exchanges work, there's also a geographic divide. In most states, so-called navigators are available to assist the uninsured in enrolling either via the online sites or on paper. But in some states, these helpers are scarce.
Here's why: Roughly a dozen Republican-led states have enacted laws that make it harder to become a navigator by either forcing them to complete more than the 20-to-30 hours of training the federal government requires or by making them apply for special licenses and charging annual fees to keep the paperwork current. There are exams to pass, too, and hefty $1,000 fines for violating the rules. Missouri, Ohio, and Tennessee passed broad legislation that prevents navigators from offering advice about health plans.
There's some question, though, as to whether the laws will stand as written. This week a federal judge in Tennessee put a temporary restraining order on the state's navigator rules after a local labor union filed suit, saying its staff advises members on how to enroll in benefit programs and the rules would put them in violation of state law for doing so. According to the Tennessean, state rules say navigators and health counselors can't "discuss the benefits, terms and features of a particular plan over any other health plans and offer advice about which health plan is better or worse or suitable for a particular individual or employer." The judge said the language in the rules is too broad and violates the First Amendment.
"Churches, unions and social service organizations can now set up computer stations to help the uninsured sign up for coverage under the Affordable Care Act without fear of being fined by the state of Tennessee," according to the Tennessean report. Don't be surprised if challenges to navigator laws in other states follow.
Before it's here, it's on the Bloomberg Terminal.
LEARN MORE