pursuits
The Best Cheap and Probably Legal Way to Watch Every NFL Game Online
DNS-switching services allow users to bypass license restrictions
By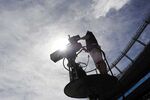 The National Football League has $6 billion worth of annual incentives to keep Americans from watching games online. So fiercely does the league guard its lucrative television deals that to watch football online in the U.S., fans still have to pay a television provider: The only Americans who are technically allowed to watch NFL's live streams are those customers who purchase DirecTV's all-access Sunday Ticket package, a deal worth $1 billion to the NFL.
What's a cord-cutting fan to do? For just a couple of dollars you could digitally pretend to be from somewhere overseas, which would give you access to every single NFL game, live and in high definition, through your Internet connection. And while doing so almost certainly violates the NFL's terms of service, it might not be otherwise illegal.
That's the promise of Canadian startup Adfreetime.com, one of a handful of providers to offer what's called a DNS-switching service. Launched in May by 26-year-old Richard Probst, the website offers subscribers the ability to mask their browsers' location by rerouting the embedded geographical identifier through a server somewhere else in the world. Turn on the region-unlocking service through a simple Web interface—Adfreetime has designed these as on/off buttons, like light switches—and it will appear as if a user in, say, Iowa is actually signing on from Ireland. "We have servers all around the world," Probst explained in an interview.
What seems like a trivial modification in location data can become a powerful tool, given that movies, music, TV shows, and live sporting events are routinely licensed under different terms in different countries or regions—a business practice that seems at best antiquated in the age of the geographically agnostic Internet.
Probst launched his startup out of frustration with Netflix, which offers a very different menu of movies and TV shows to subscribers in different areas. "We Canadians kind of get screwed on Netflix content. Americans have 10 times more than we have here," he said. "Half of what we get is French crap that I can't understand." For $1.99 per month, Adfreetime allows users to access the Netflix streaming libraries in the U.S., U.K., Ireland, Brazil, Sweden, Finland, Netherlands, or Canada with a simple click. The differences are pronounced: British viewers can see the most recent episodes of Breaking Bad, which remain unavailable to American Netflix subscribers; the Swedish have access to such recent blockbuster fare as The Hobbit that is likewise not offered in the U.S.
The regional variations are the result of deals with content distributors. "Because of license restrictions on the movies and TV shows on Netflix, we are required to employ geo filtering to prevent cross-border use of Netflix," said Netflix spokesman Joris Evers in a statement. Netflix original shows like House of Cards are made available to all subscribers, regardless of location, at the same time.
The websites of major U.S. sports leagues also embrace regional variation. NFL.com, for instance, is happy to sell regular-season access to its slick Game Pass live-streaming portal to anyone who seems to be physically located in the U.K. for $159.99, while Canadians like Probst can pay $199.99 for the service. In other countries, prices range from $129.99 to $199.99, with slightly higher rates to buy access to the playoffs as well.
In some unspecified markets, access to NFL.com's Game Pass appears to be offered free of charge; Addfreetime users aren't prompted for payment before watching live football games once the region-switching technology is activated, although it's unclear through which exact location traffic has been rerouted. Adfreetime is also compatible with NBA.com's League Pass and NHL.com's Gamecenter, which are offered domestically but subject to local and national blackouts.
The NFL doesn't particularly appreciate this workaround. Dolores DiBella, an associate counsel for the NFL, said the following in an e-mail:
"The NFL regularly and diligently monitors the marketplace for unauthorized and improper uses of NFL copyrighted content. DNS-switching services present an issue for many content owners, including the NFL, when those services are used to circumvent protections on copyrighted content distribution. The NFL works with a coalition of content owners, including sports leagues, broadcasting partners, and other media companies, to address these and other similar rights protection issues."
Unauthorized and improper is not quite the same as illegal, and close observers of digital-copyright cases could point to no examples of a region-switching service or its users being sued by content owners. "At most what you're doing is violating your terms of service. I think that's the issue," says John Bergmayer, a senior staff attorney at Public Knowledge. He compares a region-switching spectator of an NFL broadcast to someone listening to a pirate radio station in the 1970s: There might be copyright violation involved, Bergmayer says, but it's far from clear that the end user has infringed just by listening or watching.
"People have been doing it forever," he says. The underlying technology isn't very different from virtual private networks that are ubiquitous among workers who need remote access to their office computer networks. "I personally know people in Europe who will do stuff like that to watch content on U.S. sites, but these are nerdy dudes. When things become easy, that's when lawyers are more likely to get involved."
Adfreetime and such rivals as Unblock-us.com, which charges $4.99 per month for a similar region-switching service, have made it easy and remarkably cheap to get access to all kinds of streaming video. "I believe the DNS service I use routes through the Netherlands. I'm OK with that," says Lex Friedman, 32, an Adfreetime subscriber who heads sales at the Mid Roll, a podcasting ad network. Friedman lives in New Jersey, where most Philadelphia Eagles games aren't broadcast, and he refuses to pay "exorbitant rates" for DirecTV's Sunday Ticket.
"If I could pay the NFL a reasonable fee to watch just the games I care about that I can't otherwise see, I would," Friedman adds. "I think the NFL's position of making it hard for fans around the country to watch their favorite teams is the unethical approach."
(
Corrects the location of Lex Friedman in the second-to-last paragraph.
)
Before it's here, it's on the Bloomberg Terminal.
LEARN MORE