Sequester: 'From Merely Stupid to Dangerous'
By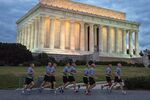 The Bipartisan Policy Center says in a report today that automatic, across-the-board spending cuts have gone from "merely stupid to dangerous."
The report focuses on the impact of sequestration on national and economic security. It was chaired by former senators Pete Domenici and Charles Robb, and by Mort Zuckerman, a real estate investor who owns New York's Daily News and U.S. News & World Report.
The Army, Navy, Air Force, and Marines have all warned that sequestration is degrading their readiness for combat.
True, the impact of the sequester on the military hasn't been highly visible yet, but it will be increasingly visible as time goes by, says the report by Steve Bell, senior director of the Bipartisan Policy Center's Economic Policy Project.
One reason for the seemingly minor impact so far is that "weapons systems are effectively bought on installment," the report says. Spending that was authorized in the fiscal 2013 budget actually occurs over five years or more, so only a bit of the pain from the first year of sequestration has been felt yet.
Military contractors have backlogs of work under prior contract awards, but that pipeline will eventually run dry, the authors say.
In recent years a growing share of the Pentagon's budget has gone for salaries, military pensions, and veterans' benefits. "Entitlements are pushing out investments. And sequester worsens that trend," the report says. Sequestration exempts personnel costs and veterans' benefits, so all of the impact is felt in operations (including training), procurement (purchases of ships, planes, etc.), and research and development.
Says the report: "The people who say there hasn't been a large economic impact from the sequester are right—for now."
Before it's here, it's on the Bloomberg Terminal.
LEARN MORE