Sales Growth at Small U.S. Companies Is Slipping
By
U.S. small businesses will need to have a great fourth quarter if the sector is to keep up the robust sales growth it has enjoyed over the last couple of years.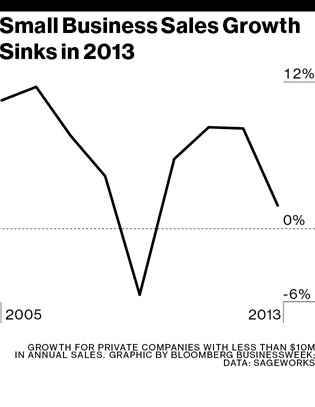 Revenue at private companies with less than $10 million in sales increased by 8 percent annually in 2011 and in 2012, according to Sageworks, but that pace has dropped to 2 percent so far in 2013. Sageworks makes software for accounting firms and aggregates the data from the financial returns of thousands of companies.
Much of the softness was from manufacturing, wholesale, and retail companies, according to Sageworks.
Poor sales was the most important problem for 18 percent of respondents in the National Federation of Independent Business's latest survey of members, making it the third-biggest concern next to the perennials—taxes and red tape. A majority of NFIB members have less than $350,000 in annual revenue and have five or fewer employees, the group says.