Pain at National Parks: Shutdown's Cost Is Pegged at $76 Million Daily
By and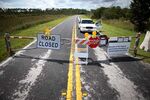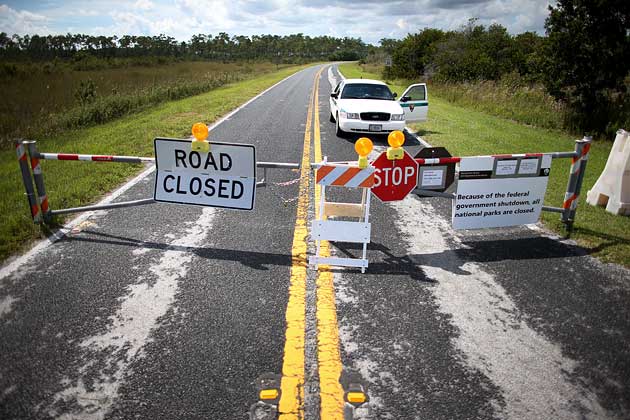 America's "best idea," as novelist Wallace Stegner called the U.S. national park system, is closed for business. (Even the National Park Service's website is closed due to the federal budget impasse that began Oct. 1.)
A group of former Park Service employees collected some data this week about the economic impact on the parks over the first 10 days of the shutdown, with an estimated 715,000 visitors kept out and $76 million per day in lost visitor spending. The Coalition of National Park Service Retirees also released estimates for losses from Oct. 1 through Oct. 10 at 14 U.S. parks, based on past visitor and economic data collected and analyzed by Headwaters Economics, a research firm funded by federal agencies, the state of Montana, Stanford University, and charitable foundations. Here's the breakdown:
• Acadia National Park (Maine)
68,493 lost visitors; $5.26 million
• Badlands National Park (S.D.)
26,767 lost visitors; $656,986
• Boston National Historic Park (Mass.)
54,794 lost visitors; $2.03 million
• Cuyahoga Valley National Park (Ohio)
68,219 lost visitors; $1.54 million
• Everglades National Park (Fla.)
25,083 lost visitors; $3.85 million
• Gettysburg National Military Park (Pa.)
27,397 lost visitors; $1.79 million
• Glacier National Park (Mont.)
60,273 lost visitors; $3.07 million
• Grand Canyon National Park (Ariz.)
120,000 lost visitors; $11.7 million
• Great Smoky Mountains National Park (N.C. and Tenn.)
257,534 lost visitors; $23.1 million
• Olympic National Park (Wash.)
77,808 lost visitors; $2.91 million
• Rocky Mountain National Park (Colo.)
80,821 lost visitors; $4.82 million
• Yellowstone National Park (Wyo., Mont., and Idaho)
98,630 lost visitors; $9.45 million
• Yosemite National Park (Calif.)
106,849 lost visitors; $10 million
• Zion National Park (Utah)
72,876 lost visitors; $3.49 million
"These figures are mind boggling and they only begin to capture the full economic shock of locking up the crown jewels of America," Maureen Finnerty, the coalition's chairwoman, said in a press release. Joan Anzelmo, a former NPS official who worked at Yellowstone and Grand Tetons parks, called the shutdown a "double tragedy" because it affects both Americans and the many foreign tourists who visit during autumn, "a wonderful time to visit national parks all over."
The Associated Press reported Friday that New York state officials are talking with the park service about using state funds to reopen the Statue of Liberty, one of New York's most popular visitor attractions. Several other states are also hoping to get permission to open federal parks.
The shutdown also is hurting business for companies that offer park tours, guided hikes, and other outdoor activities. Tom Hale, the founder of Backroads, a 500-employee bike tour and adventure travel company in Berkeley, Calif., said the shutdown has cost his company about $50,000 so far because of cancelled tours. "We're living in a banana republic—you can put that one down," Hale says. "This is inexcusable."
Before it's here, it's on the Bloomberg Terminal.
LEARN MORE