New $200 Speakers May Take Sonos Mainstream
By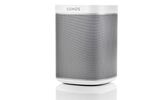 Like good music snobs, the fine people at Sonos relish reminding everyone that they've been onto their particular trend since way before it was cool. The company was founded in 2002 on a bet that streaming music over the Internet was the next big thing and started building really nice speakers to prepare for the revolution. For much of the past 11 years, its prescience made it the music system of choice for a niche of smug aficionados. Now it could be ready to take a step toward the mainstream.
There were two things holding Sonos back. One: Not that many people were ready to commit whole-heartedly to streaming. Two: Its products were probably too expensive to attract the casual listener. The first problem seems to be working itself out, led mostly by Pandora Media. Almost half of smartphone users stream music through their devices, and more than a third of PC users do the same, according to NPD Group.
Sonos is taking care of the second problem itself, by introducing a cheaper version of its speakers on Monday. (Of course, anyone who has been paying close attention already knows about the Play:1: News of the speakers was leaked through an FCC filing, and they seemed to have gone on sale at a rogue Target store last week.)
The Play:1 speakers are smaller, designed to handle humidity better, so you can put them in the bathroom. But the main innovation is their price tag: $200, compared with $300 for Play:3 speakers, the company's most popular product. I couldn't hear much of drop-off in the sound quality, even if I'm sure the audio engineers who run Sonos can. This likely means that the cheaper speakers are going to cannibalize Sonos's more expensive products. The merits of this strategy have been a subject of running debate at its offices. Sonos wouldn't talk about its sales numbers.
The company line, of course, is that it's happy to sell people whatever they want. That makes sense. Perhaps more than ever, Sonos has competition to worry about. Many companies have been making portable BlueTooth speakers, a market that Sonos has shown no interest in. Yet this month Samsung Electronics released a speaker that looks like a wedge-shaped version of Sonos. It streams a handful of music services over Wi-Fi and anything your phone can play via BlueTooth. Bose also recently introduced a similar wireless home speaker system called SoundTouch, which streams music from a home computer or from Pandora.
Sonos is probably still a step ahead. Both Samsung and Bose are selling their products for at least $400. Sonos also says that the way it connects its speakers—through a wireless network it has designed just for audio, rather than your home's existing Wi-Fi—is inherently more reliable. This isn't an easy thing to get right, and it doesn't take much skipping to make a streaming service insufferable.
If Sonos can sell a bunch of its cheapest speakers, it will likely lock in customers while its competitors are still trying to figure things out.
Before it's here, it's on the Bloomberg Terminal.
LEARN MORE