Moneyball Is Dead; Long Live Moneyball
By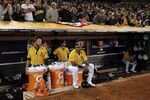 One of the unfortunate side effects of the success of Moneyball, both the book and the movie, is that every Oakland Athletics season, maybe even every baseball season, has become a referendum on a rather broad, nebulous idea that now carries the "moneyball" label. When the A's succeed, it proves that Billy Beane and Michael Lewis and Brad Pitt were right all along about whatever it is they are supposed to be proving. When the team fails, it proves that they are all frauds.
Last night the A's were eliminated in Game 5 of the American League Division Series against the Detroit Tigers for the second consecutive year. So, according to my Twitter feed, Moneyball was wrong:
Even my brilliant colleagues are not immune:
It's all in good fun, I guess, but it's also inane. There is, first of all, no agreement about what Moneyball means. Sometimes it means that Beane thinks he's smarter than everybody else; sometimes that Scott Hatteberg is a great player; or that stolen bases are nothing and on-base percentage is everything. Then there's the problem of what it would take to prove each imagined thesis. Do the A's, as many seem to believe, have to win a World Series? Or is it enough to win 96 games with a bottom-five payroll?
Here's a radical interpretation: Moneyball was about inefficiencies in the market for baseball talent and a front office that sought to take advantage of them by embracing a mode of analysis that had largely been ignored by the game's establishment. Nothing that happens to the Oakland A's now will change anything about that.
Now enjoy the playoffs—which, by the way, currently feature four teams from the top 11 in payroll, whose spending runs from almost double to more than three and a half times that of the A's. Moneyball, schmoneyball.
Before it's here, it's on the Bloomberg Terminal.
LEARN MORE