McBooks: McDonald's Adds Books to Its Happy Meals
By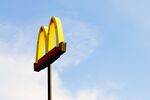 The Happy Meal just might be the most criticized item on McDonald's menu: For many parents it seems like the gateway drug to the fast-food chain. McDonald's, which, in case you haven't noticed, has an abundance of marketing talent, has been trying hard to counter this image. It has reduced the size of the fries, included apple slices, and is offering low-fat milk. Its most recent effort is especially clever. For two weeks beginning Nov. 1, McDonald's will offer a book with every Happy Meal. Nov. 1 is National Family Literacy Day.

The four titles were created for McDonald's with the help of Publicis Groupe's Leo Burnett, the ad agency that handles the chain's family and kids marketing. Each includes a message about good nutrition. McDonald's describes one of them, The Goat Who Ate Everything, this way: "Tells a story of a goat who has a big appetite and struggles to eat right. But when he does, he feels great and becomes the playful 'kid' everyone loves." McDonald's expects to distribute 20 million books in two weeks. That's more than the 15 million print copies of the best-selling Hunger Games trilogy that were sold in 2012. It's also a whole lot of Happy Meals.
This isn't the first time McDonald's has included books with its Happy Meals. Four years ago, it distributed some American Girl storybooks, and back in 1988 it handed out a version of Beatrix Potter's Peter Rabbit.
The Goat Who Ate Everything and the three other books will also be on HappyMeal.com. (Spanish-language versions will be available on McDonald's.com.) And come November, McDonald's will also introduce a new interactive book each month for the next year. McDonald's is working with DK Publishing on this project: The first e-book will be The World's Greatest Cities. It will be available on the McDonald's Happy Meal app.