Janet Yellen and the Tyranny of Being the Most Powerful Woman
By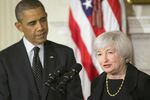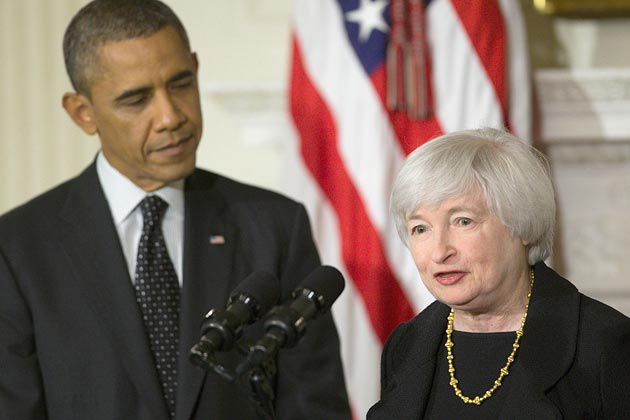 In addition to being identified as someone who paid her babysitter higher than rock-bottom wages, newly nominated future Fed Chairwoman Janet Yellen is now, apparently, The Most Powerful Woman in the History of the Universe.
Still months away from actually starting the job, Yellen has already inspired the following headlines: "Move over Angela Merkel, Yellen may become world's most powerful woman"; "A Woman Virtually Nobody Has Heard Of Is On The Verge Of Becoming The Most Powerful Woman In The World"; "Janet Yellen, the most powerful woman in US history.
The question is absurd, much like the process by which Yellen got the nomination. The very idea of Yellen's wearing a notional "crown" reflects the media's obsession with ranking influential women as if they're beauty pageant contestants. (It's doubtful headline writers would have proclaimed Larry Summers "the world's second-most powerful man" if he'd become Fed Chairman.) Is Yellen truly more powerful than Merkel, who's just been reelected as the leader of Europe's most influential nation? Or Christine Lagarde, the head of the International Monetary Fund? More powerful than Dilma Rousseff, the president of Brazil, the world's sixth-biggest economy?
Whether Yellen is the most powerful woman in U.S. history is equally debatable—and ultimately unanswerable. Would Chairwoman Yellen wield more power than former Secretaries of State Hillary Clinton, Condoleezza Rice, or Madeleine Albright? What about former Speaker of the House Nancy Pelosi, who was once third in line for the presidency?
There's no question that the chairman of the Federal Reserve is an influential role. As leader of the U.S. central banking system, Yellen will shape the Federal Open Market Committee's policies on interest rates; she'll be involved in bank regulation and in dealing with financial crises, if and when they arise; and perhaps most importantly, she'll be responsible for communicating the Fed's actions and intentions to the market, which can have reverberations around the world. But the Fed isn't a dictatorship: it consists of a board of governors—who are appointed by the president—and 12 regional member banks, each its own mini-fiefdom. Yellen will spend much of her time trying to persuade the various players to make the best possible decisions.
The breathlessness surrounding Yellen's nomination is a sign of the public elevation of the role of Fed chairman in recent years. Because of dysfunction in Congress, monetary policy has become the main driver of the U.S. economy. But even if Yellen is about to become the most powerful woman in the world, she may hold the title only until Inauguration Day, 2017.
Before it's here, it's on the Bloomberg Terminal.
LEARN MORE