I Was One of the First People to Be Totally Wrong About Twitter
by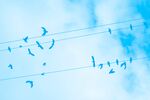 After Twitter becomes a public company, sales of its shares are likely to value it as a $20 billion company. None of those billions, or even a fraction of a single billion, will belong to me. I'm not saying I was ever offered a share in Twitter. I am saying that I was one of the first people to have been completely wrong about it.
In the New York Times Magazine this week, Nick Bilton laid out Twitter's creation story. Evidently some people began betraying each other in 2006. I didn't know they were betraying each other; the article's definitely worth a read. I did know, however, that they called me a couple of times. And that I blew them off.
In the spring of 2006 I was working at a new public radio program called Radio Open Source, out of WGBH in Boston. My boss, Christopher Lydon, had produced the first ever podcast. My business card read "Blogger in Chief." It was my job to tie the show into a parallel conversation on the Web, mostly on the comment threads of the show's blog.
We pulled photos of news events from Flickr (remember Flickr?) and interviewed their users. We recorded a show live in Second Life (remember Second Life?), and I visited all the old people at other public radio stations and explained with patient condescension that they were going to have to start talking to their audiences on the Web.
I had been working with a company called "Odeo" on a Flash-based audio recorder that we could embed into the comment threads of our website, to collect audio comments from our audience that we could work into the show. The people at Odeo and I were convinced that podcasting would allow new radio voices to flourish. That was my revolution.
Then the guys at Odeo called me. They had been thinking about their business, and realized that they never used their own tools. Hard to start a revolution if you're ambivalent about it yourself. And so they were not going to be able to continue supporting the tool they had built for us.
Also, they told me, they had decided to reorient the company around a completely new idea, one they were all really, really excited about. They were going to share 140-character messages over the Internet. They thought it had implications for journalism, too, and were excited to see how we might start using it in our radio show.
I thanked them for calling. I hung up. And then turned to my cubicle mate and said, "I need to tell you about the dumbest idea I've ever heard." I felt a little bad, then, and so I went to Twitter.com, created an account, and poked around for a bit. No, I decided, this is definitely the dumbest idea I've ever seen.
I even saw them, later that spring, on a trip to a conference in San Francisco. I really wanted to talk to them about Odeo. They really wanted to show me Twitter. They were ambivalent about my revolution. I was ambivalent about theirs. In his telling of the Twitter creation story, Bilton makes the point that good ideas fail all the time for lots of reasons. Bad management. Not enough money. Infighting. And timing. Timing, timing, timing. I blew off Twitter in part because I had just spent a year managing an online community, and I had grown to hate it. People online are cranky, needy, and boring. I was already completely burned out on Twitter's very big idea.
Now there's Ev and Biz and Jack and Dick. Podcasting has settled into a market owned by Apple, dominated by traditional radio broadcasters. I don't even work in broadcast anymore. And every year or so, a younger colleague comes around to explain with patient condescension that I could expand my reach if I spent more time on Twitter. I'm @bhgreeley. I have 1,035 followers, most of which I hope are actual humans, and absolutely no equity stake or connection to the company called Twitter.
Before it's here, it's on the Bloomberg Terminal.
LEARN MORE