HP and Dell Gain on Asian Rivals. Just Don't Call It a Comeback
by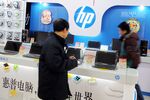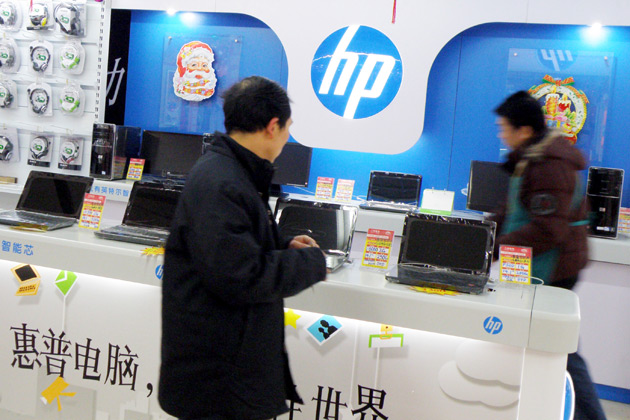 With the computer industry stuck in a rut because of competition from tablets and smartphones, one rule has seemed certain: Longtime leaders Hewlett-Packard and Dell would steadily lose out to Asian rivals like Lenovo, Acer, and Asustek that could more easily cope with the tiny margins of a commodity business. For five years through the middle of 2013, the U.S. companies' combined market share dropped quarter after quarter after quarter—and sure enough, Lenovo displaced HP last year as the world's top seller of computers.
But it might be time to rethink that rule. The two U.S. computer makers gained ground in the third quarter with a combined 29 percent share of the PC market, up from 26 percent a year earlier, according to a report published today by analyst Alberto Moel of Sanford Bernstein. Lenovo and the two Taiwanese companies remained about flat with a combined 32 percent.
What accounts for the modest rebound of the Americans? Part of it has to do with luck. HP and Dell are stronger in the U.S. than their Asian rivals, and the U.S. economy has been doing better than European and emerging markets where the Asians traditionally have done well, according to Moel. Dell in particular has benefited from aggressive pricing.
The computer industry has been down so long, it's tempting to celebrate the rebound as some much-needed good news. Those looking for silver linings should also consider this: Shipments of laptop computers jumped 10 percent month-on-month in August and are likely to have increased another 12 percent last month, according to Barclays, and Gartner and IDC this week reported increases in shipments of both laptops and desktops.
Sounds good, but those increases are less a reflection of strong demand and more a sign of earlier-than-usual preparation for the holiday season. Companies are sending computers from their Asian factories to the U.S. by sea rather than air to save money on shipping. The cost of shipping by sea is just $4 per computer, compared with $20 for air cargo, but companies need six to eight weeks instead of just a few days. Hence the spike in August and September shipments. Actual demand for PCs "remains modest because of cannibalization" from smartphones, iPads, and other tablets, Barclays analysts led by Kirk Yang wrote in a report published on Oct. 6.
Still, Bernstein's Moel argues there is indeed reason to be somewhat optimistic that the worst might soon be over for the world's computer makers. "We ultimately don't believe that tablets are 'replacing' PCs (very few people we have met have actually retired their PC because of a tablet), but rather that they are contributing to PCs being used less—which, in turn, is pushing out the replacement cycle for PCs."
If tablets are just delaying PC purchases rather than making them unnecessary, "this is a big deal," he writes. In 2011, for instance, about 75 percent of the 365 million PCs shipped were replacements for older machines. Adding one year to the average replacement cycle, increasing it to five years, would lead to a 20 percent drop in demand. "If PC weakness is in fact due to a lengthening of the replacement cycle," Moel writes, "the bright side is that once the replacement cycle stabilizes (especially given that PCs do eventually break down and need to be replaced), PCs could be poised to grow again."
Before it's here, it's on the Bloomberg Terminal.
LEARN MORE