How the Far Right and Left View the Possible Debt Deal
By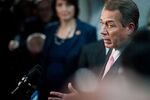 Yesterday the House Republican leadership offered an olive branch to President Obama, proposing a deal that would temporarily raise the debt ceiling and allow time to reach a longer-term resolution. Obama didn't agree to the deal because it didn't end the government shutdown, Bloomberg News reports, but it has thawed the fiery rhetoric and started talks between the GOP and the president. Here's how the talks are playing across the political spectrum.
Robert Costa, the Washington editor at the National Review, reports that last night some conservatives doubted that they'd reopen the government before reaching a debt deal, but this morning, more feel that they will need to do just that—pass both a continuing resolution to end the shutdown and an increase to the debt limit—to get major long-term reforms on the table.
Tea Partiers are not happy. "The Fight Remains About Obamacare" is the top headline on RedState.com. "Surrender should not be an option," the story says. "This fight has been and remains about Obamacare. A Republican Party fretting over polling should consider that polling will rebound in their direction with a victory." Similarly, the top story on Tea Party News Network isn't about the debt deal at all. It links instead to a story about low enrollment in the health-care exchanges. Its story on the debt talks says: "An already too-lenient compromise offered by House Republican leaders has been rejected by the Obama Administration. It seems as if we are heading towards another fight with the intransigent Democrats."
On the left, the whole battle is seen as a political opening against making concessions to Republicans, who have been pummeled in polls. The Nation's home page leads with a story that says: "In the short term, Obama and the Democrats must focus on avoiding any concessions that would allow a minority within a minority to force cuts in Social Security, Medicare and Medicaid. But the crisis has created an opening for a discussion of gerrymandering and other structural challenges to democracy." Daily Kos focused on the negative polling, too. A post by founder Markos Moulitsas says, "Damn, I wish the elections were this November."
Before it's here, it's on the Bloomberg Terminal.
LEARN MORE