Hershey's Invents Its First New Candy in 30 Years, and China Gets It First
By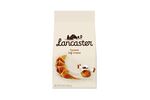 Hershey's sells six different kinds of Kisses—seven if you count the pumpkin spice-flavored ones out now. Its Reese's are available in four sizes, in sticks, and in pieces. Its plain chocolate is available as bars, of course, and also nuggets and drops. And it owns other brands, perhaps most notably Brookside, which makes those dark chocolate-covered fruit candies.
All this variety obscures the fact that Hershey's hasn't come up with a completely new brand in three decades. Now it has. It's a caramel candy called the Lancaster. It will be in stores in the U.S. in January.
The company's playing up the caramel's American heritage. Turns out that before the Hershey's chocolate bar, before Hershey's itself actually, Milton Hershey ran the Lancaster Caramel Co. It provided the foundation for Hershey to start his namesake company, which originally produced chocolate as a coating for the caramels.
Times change, though, and when Hershey's first introduced the caramel this spring, it did so in China. In a May press release, it said that milk candies were a billion-dollar segment of the candy market in China and the fastest-growing. Hershey's expects China to be its second-biggest sources of sales after America before too long. And it's counting on China to help reach its 2017 goal of $10 billion in worldwide sales, up from $6.6 billion today. To that end, Hershey's has opened a research and development center in Shanghai. It seems likely that Lancaster won't be the first new American candy to arrive via China.
Before it's here, it's on the Bloomberg Terminal.
LEARN MORE