Five More Ways Shutdown Pain Gets Worse Over Time
By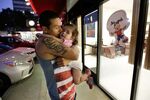 Wonk Blog's Brad Plumer spelled out nine reasons the shutdown will be more painful as it drags on—a key question in whether the government should remained closed while Washington hammers out the budget and debt deals. His nine are a pretty good number, being square and all, but there are many others. I'll pick five, a nice prime number:
1. Companies, including Twitter, may not be able to IPO. The U.S. Securities and Exchange Commission has been running on reserve funds since Oct. 1. Jaret Seiberg, an analyst at Guggenheim Partners, said in a note this week that the cash will run out by roughly the end of the month. That would leave the agency without staff to review and approve IPO filings—an essential part of the convoluted IPO process—and force public offerings to "come to a halt," according to Seiberg. Twitter's going to start it's own investor roadshow at the end of the month, so if it follows the regulator pattern, it would need the SEC to sign off on its IPO about two weeks later, in the first half of November.
2. Infants and children may have trouble eating. Nov. 1 is the day funding is expected to run out for the federal nutrition program for Women, Infants, and Children. WIC gives money to low-income mothers who are pregnant or have young kids to buy nutritious foods such as fruits, vegetables, and fortified infant formula. More than 8.5 million women and children were enrolled in WIC, according to Stateline, and North Carolina has already told almost 264,000 people that they won't get funds next month.
3. We may have to wait longer to get new mobile phones. Our Bloomberg News colleagues report that the Federal Communications Commission has already stopped reviewing and approving phones, computers, and medical devices that emit radio waves, which they must check for interference. The agency typically approves 16,000 devices a year, and pending applications are now stuck in a queue. The longer the shutdown, the bigger the backup, the longer the wait for new phones. Americans, of course, will all survive even if we can't get a new phone instantly, but there is big money and big companies that rely on frequent and rapid new device sales. The law firm Hogan Lovells called out Google, Apple, and Samsung as among the companies that could suffer.
4. It could hurt food imports and domestic food production. Growing seasons are just that: seasons. You can't delay when the sun shines and plantings thrive, and slower trade could collide with the best times to grow. A story from Bloomberg News outlines all kinds of interesting ways the shutdown is already impacting trade. For example, the Environmental Protection Agency usually reviews imports of pesticides to make sure they're safe, but the agency has furloughed 90 percent of its workers. Inventories on the chemicals used in pesticides are already low, so an industry representative told Bloomberg that it "may not take long" for the trade bottlenecks to disrupt planting seasons.
5. Scientific research is dying on the vine. Science has, you know, a method. And it can't always be put on hold. The Antarctic freezes and rats age, as Politico points out in it's summary of how universities and researchers are feeling the shutdown. With some government grants delayed, researchers are losing windows when they can conduct their studies. The rat researcher, whose trained rats are aging out of the two or three month period when they're most useful, told Politico the situation couldn't get worse. Then he revised his statement: "I guess it could get worse. It could go on."
Before it's here, it's on the Bloomberg Terminal.
LEARN MORE