Finnish Debt Load Worrying After Spate of Cuts, Premier Says
Kasper Viita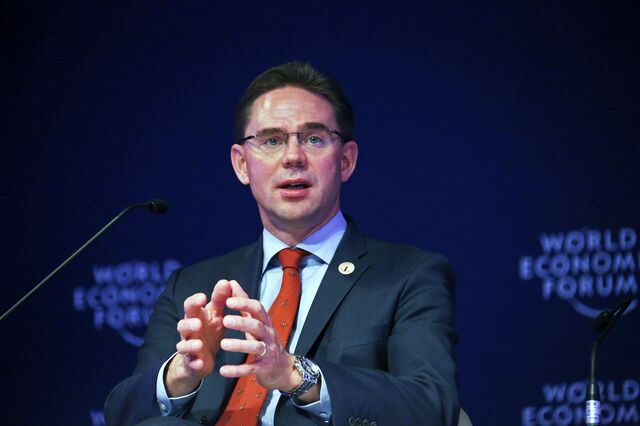 Finland's Prime Minister Jyrki Katainen said he is alarmed at the pace of debt growth in the northernmost euro member and warned his countrymen to gird for further measures in an effort to reduce public borrowing.
"The trend is certainly worrying," Katainen said yesterday in an interview in Helsinki. "We've done quite a bit to control it and will do more."
The government said last month that dimming economic prospects mean it will fail to reach its fiscal targets. It sees debt growing to 60.7 percent of gross domestic product in 2014, the highest level since World War II and the first time it will exceed the European Union's 60 percent threshold.
"I'm very concerned about the pace of debt accumulation," Katainen said. "It can't be treated with just cuts, the pressure will be on structural reforms."
Finland's efforts to defend it stable AAA rating through budget tightening have so far failed to reduce debt as a ratio of gross domestic product. The International Monetary Fund said this week Finland's economy will contract 0.6 percent this year, more than the 0.4 percent GDP decline the fund predicts the whole euro area will suffer.
Bonds, Stocks
The difference in yield between Finland's 10-year bond and similar-maturity debt sold by the government of Germany widened one basis point today to 23 basis points. The OMX Helsinki Index of Finland's 25 most-traded stocks slipped 0.4 percent as of 11:17 a.m. local time.
The Nordic nation, which is lagging behind neighboring Sweden and Norway in tackling the fallout of Europe's debt crisis, is struggling to adapt to the demise of a technology industry once led by Nokia Oyj, and a paper industry that's failed to keep up with the Internet age.
"We need a little less ideology, a little more research and experience," Katainen said. He warned his countrymen to brace themselves for reforms that he said are "going to be terribly difficult, but decisions need to be taken. We need to set aside emotions for a while and do what needs to be done."
-- Editors: Tasneem Brogger, Kati Pohjanpalo
Before it's here, it's on the Bloomberg Terminal.
LEARN MORE