Crosstown Rivals Booth and Kellogg Offer Executive Program
Francesca Di Meglio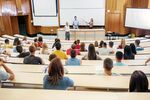 University of Chicago's Booth School of Business is teaming up with its crosstown rival, Northwestern University's Kellogg School of Management, to offer an executive leadership program beginning in 2014.
Participants in the program, CEO Perspectives, meet in person for six two-day periods over the year. Currently, the sessions take place at Kellogg's Evanston campus, but a search is on for a downtown Chicago location for 2015 and beyond. In addition, Booth is in the process of hiring a co-director, who will work with Kellogg professor Daniel Diermeier, who has been directing the program since its launch.
Offered by the Corporate Leadership Center, a nonprofit business academic forum, the program is for an exclusive group of top executives who have been nominated by their company's chief executive or board chairman. Kellogg faculty members have been teaching the program since 2005.
Nearly 200 executives have gone through the program since then, and 12 percent of them have become CEOs. Currently, professors work with CEOs of the participants and other Fortune 500 companies to present various modules, which revolve around such issues as leading change and managing corporate crises.
What makes the program special is the caliber of executives participating and the top CEOs, who share their perspectives on leadership, says Booth Dean Sunil Kumar. When approached about the possibility of Booth jointly offering sessions with Kellogg, Kumar thought Booth's faculty would add diversity to the program, while Booth alumni would be likely to participate. Over the next few months, the professors from both schools will collaborate to determine the best relevant material they can offer.
Tuition for the course is $50,000. Kellogg and the Corporate Leadership Center sponsor a scholarship for a civic or nonprofit executive, as does the Robert R. McCormick Foundation. Booth plans to contribute to the scholarship program but is still deciding how.
Join the discussion on the Bloomberg Businessweek Business School Forum, visit us on Facebook, and follow @BWbschools on Twitter.