Big Law With Gays and the Mob in Jim Stewart's Dewey & LeBoeuf Dispatch
Paul M. Barrett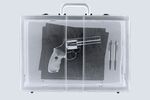 Count on James B. Stewart to come up with the gay and mob subplots to last year's collapse of the corporate law firm, Dewey & LeBoeuf.
The prolific New York Times business columnist and author of such books as The Partners, Den of Thieves, and DisneyWar, Stewart investigates tirelessly and then crafts gripping narratives. His latest dispatch for the New Yorker includes fresh angles on the well-chronicled demise of Dewey & LeBoeuf, a mega-firm whose expiration epitomizes an era of instability in Big Law. Three highlights:
1. Gays: Stewart paints vivid portraits of Steven Davis, the former chairman of Dewey & LeBoeuf, and Stephen DiCarmine, the firm's executive director. "The two Steves," as they were known, displayed questionable judgment as managers and helped lead Dewey & LeBoeuf off the cliff. They also both happen to be homosexual, although they weren't romantically involved. Stewart shows how perceived hostility toward gays within the firm exacerbated an already-toxic atmosphere. The journalist even suggests that Davis's biggest mistake—seeking to merge his prior firm, LeBoeuf, Lamb, Greene & MacRae, with the financially troubled Dewey Ballantine—was driven in part by his anxiety over the potential defection of a pugnacious LeBoeuf rival he accused of homophobia.
2. Crime, organized and otherwise: DiCarmine, whom Stewart describes as Davis's e-mail-snooping hatchet man at Dewey & LeBoeuf, has a colorful family back story. DiCarmine's cousin, with whom he was close as a child, turns out to be Vincent (Vinny Gorgeous) Basciano, a senior figure in the Bonanno crime family who has been convicted of murder and other crimes, Stewart reports. In 2011, as the law firm melodrama unfolded, Basciano faced a death-penalty hearing. DiCarmine took the stand to declare, "My cousin Vinny is loved by his family." The jury sentenced Basciano to life in prison. Now out of the law game, DiCarmine is pursuing a degree at Parsons. Stewart writes that DiCarmine himself is "possibly the subject of a criminal investigation" related to allegations of fraud at Dewey & LeBoeuf.
3. Bad advice: One of my favorite details in the New Yorker piece is that Davis brought in the McKinsey management consulting firm to advise on the ill-fated marriage that produced Dewey & LeBoeuf. McKinsey did what management consultants tend to do: give the client the advice the client wants to hear. In this case, the advice turned out to be exactly wrong. According to Stewart, McKinsey encouraged Davis to bribe reluctant rainmakers to remain at the merged firm by giving them lucrative guaranteed contracts that sowed jealousy and heightened acrimony. Amazingly, the management consultants come off looking almost as bad as the clueless lawyers.
Before it's here, it's on the Bloomberg Terminal.
LEARN MORE