How China May Lose a Chance for Reform
An overhaul of state companies looks less and less likely
By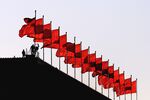 In the runup to November's big Communist Party confab, known officially as the Third Plenary Session of the 18th CPC Central Committee, expectations among reform advocates are high. At the third plenum in 1978, paramount leader Deng Xiaoping announced gaige kaifang, or reform and opening-up, ending the self-imposed isolation of the Cultural Revolution and exposing China's economy to market forces. "Thirty-five years after the Communist Party of China lifted the country out of 10 years of chaos and started economic reform and opening up, analysts say the Third Plenary Session of the 18th Central Committee of the CPC has the potential to be a landmark event," China's official news agency, Xinhua, wrote on Oct. 9.
Several recent indicators, however, have made it harder to know what the plenum will bring. On Sept. 29, the China (Shanghai) Pilot Free Trade Zone was opened. Designed as an economic laboratory that could usher in more market freedoms, the zone was hailed weeks earlier as a harbinger of serious change. Yet the chief backer of the zone, Premier Li Keqiang, did not attend the opening ceremony. "None of the top leaders were present, not even a vice premier," says Bo Zhiyue, a senior research fellow at the National University of Singapore. Li's no-show raised concerns that top leaders might be split on change.
On Oct. 14, President Xi Jinping spoke at the Asia-Pacific Economic Cooperation summit in Bali, Indonesia, about key reforms facing China—financial sector liberalization, support for corporate research and development, environmental taxes, and other policies—according to economic consultant GK Dragonomics. "Xi Jinping's speech at the APEC summit appeared to give an outline of the much-awaited reform plan," Research Director Andrew Batson wrote in an Oct. 14 note. "Notably missing was any mention of state-owned enterprise reform."
If that exclusion was deliberate, then the plenum may not achieve as much as change advocates hope. "No real reform agenda can be possible without meaningful reform of the state sector," says Fred Hu, chairman of Primavera Capital Group, which focuses on Chinese investments. "It is the key to overall reform." China's approximately 100,000 state-owned and -controlled enterprises account for up to half of the country's industrial output, according to Hu, the former Asia economist for Goldman Sachs. These state companies get low-cost or even free land from the government, enjoy below-market interest rates from state-controlled banks, and in some cases have a monopoly on an entire industry and thus enormous pricing power. Sheng Hong, director of the Unirule Institute of Economics in Beijing, says the think tank's research shows that since 2010 state companies' monopolies in banking, oil, telecommunications, railways, and salt have cost the economy 1.9 trillion yuan ($311 billion) in lost growth.
Although reform advocates say the playing field between the private sector and state-owned enterprises must be leveled, the political will to tackle these powerful interests may be lacking. A Communist Party "official may serve as a senior manager of a state enterprise. Then he may become the deputy party secretary of a province," Sheng says. "So how can they reform themselves?"
Even if tackling entrenched interests is off the table at the plenum, other changes are possible. There's wide consensus on the need for financial and monetary reform, smarter pricing, and taxation of raw resources, as well as more government spending on health, education, and social security, according to an Oct. 10 research note by economists Louis Kuijs and Tiffany Qiu at the Royal Bank of Scotland in Hong Kong.
The other touchy subject is the abolition of the household registration system. The so-called hukou keeps emigrants from China's rural interior from using the social services of the big cities where they go to find work. Dismantling the hukou may get more support than state enterprise reform. Still, without an overhaul at the state-owned companies, this plenum won't have far-reaching results like those Deng managed more than 30 years ago.
BOTTOM LINE -
The bottom line: The top monopolies run by state enterprises may have cost China $311 billion in lost growth since 2010.
Before it's here, it's on the Bloomberg Terminal.
LEARN MORE