pursuits
Apple and the Further Adventures of an Online Job Search
Lydia Booz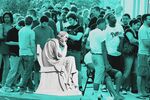 In this week's episode of the travails of a liberal arts major, with no tech background to speak of, searching for a job in the tech capital of the world: I applied to nine jobs at Apple last night. Two of these were for receptionist positions.
If you've ever purchased a song on iTunes, or even vaguely browsed, the Apple jobs search feature will seem familiar. For one thing, the design of the site is so streamlined it's visually indistinguishable from the online store.
Hi-res images of Apple products abound. I am unsure whether Apple's game is to inspire guilt for my not being a hardware engineer (succeeded) or trying to sell me an iPad. Either way, I officially feel bad on both counts.
The filtering mechanism that allows you to sift through their offerings is eerily similar to the engine that I use to find exactly the song I'm looking for in my library. This manifests in a menu of filters: keyword, location, language skills, business line, and job function.
Apple, ever the perfectionist, lists every major city and spoken language on the planet. There are four jobs in Abu Dhabi, but Norwegians are out of luck. I optimistically check off the box for French and find one job in California: iOS International Siri QA … "responsible for the daily testing of Siri." If you speak French in France, you have 17 options to choose from, which is 12 fewer than those French Canadians may avail themselves of.
Where is the box for Ancient Greek? A professor once told me that I was "half-educated" for knowing Greek but not Latin. Professor Tomarchio, there is one job for Latin speakers in the Apple empire, and it is for an In-Store HR Manager in Barcelona. In fact, if you speak Fijian, Uzbeck, Tibetan, Tamil, or Azerbaijani, that one same job is available to you as well. Is this a glitch?
Apple prompts candidates to sign in using their Apple ID. Will I be screened for my music taste? I knew that All American Rejects album would come back to haunt me. Little green checkmarks appear beside the jobs I apply for. After receiving nine automated e-mails, each of which were replies to the previous, and the corresponding buzz on my iPhone, I felt a pang of longing for the Nordic Fraud Analyst job in Cork, Ireland—one of three, should I speak Finnish. I don't.
Before it's here, it's on the Bloomberg Terminal.
LEARN MORE