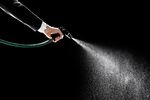 The specter of the U.S. government picking and choosing which obligations it pays first has been hanging over the debt-ceiling debate. It was the very first question asked in President Obama's long press conference on Tuesday, and the very first question asked of Treasury Secretary Jack Lew at this morning's Senate hearing. Even as House Republicans today said they will consider a short-term increase to the debt limit, the deal still needs support from Tea Party lawmakers—some of whom have held off negotiating because they believe in the soothing power of prioritizing debt payments.
While the idea may sound like a viable if undesirable stopgap measure, Lew told the Senate it's not clear that prioritization is legal. Even if it is legal, he said, it's a no-go technologically. The government, Lew explained, writes "roughly 80 million checks a month" through automated systems that were "not designed to be turned off selectively."
Those systems are housed in the Treasury Department's Financial Management Service, which processes most payments from the government to individuals and businesses. That includes payments for Social Security, veterans, tax refunds, and pensions. During the 2011 fiscal year, the office distributed "more than one billion federal payments to more than 100 million people and valued at more than $2.4 trillion," according to the department. Most of those were electronic, though more than one in six were via paper checks.
While the department is a middleman between agencies and the people they pay, it doesn't have full control over the fire hose of payments. As Bruce Bartlett, a former Treasury official in the first Bush administration, explained:
Contrary to popular belief, the Treasury can't sift through the various bills due each day and decide which to pay and not to pay. In many cases it lacks the information to know what a bill is for. Payments are initiated by the departments and agencies, which forward invoices electronically to the Treasury's Financial Management Service, which has no idea what the invoice is for. All it can do is check to see if the payment is valid and there are sufficient funds in the relevant account to pay it.
Bartlett says that would leave each agency to sort through its payments in conjunction with the White House Office of Management and Budget, and doing so would take time. It's no easy task and would require a lot staff—who probably are furloughed right now as part of the government shutdown.
Before it's here, it's on the Bloomberg Terminal.
LEARN MORE