The Nike Scouting Report: Strong on Gadgets, Watch the Head-Fake on China
by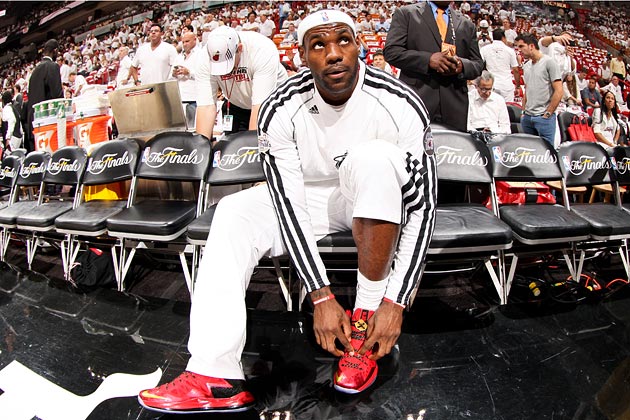 Age: 45
Position: Apparel decathlete
Measurements: 38,000 employees, $64.8 billion market cap
Stats: $25.3 billion annual sales, $2.5 billion annual profit
(Notes compiled on Oct. 9 as the player ran some drills for investors)
Strengths
North America: While many considered the U.S. fully developed, Nike drummed up an additional $4 billion in North American sales during the past three years, in part because it tends to run in lock step with the U.S. economy as a whole. Some 41 percent of its revenue now comes from the region, up from 35 percent in 2010.
Hoops: Nike is profiting from a basketball renaissance, thanks to LeBron James and a crew of other exciting young players. "We haven't seen this level of excitement for the game since the days of [Michael] Jordan, [Charles] Barkley, and [Scottie] Pippen in the 1990s," says Jayme Martin, Nike's general manager of global categories. The company was quick to bring James onto its design/sponsorship team (where Jordan has been for decades). Nike expects an additional $1 billion in annual basketball-related sales over the next four years.
Running: Nike started as a running company and is just now hitting a record pace after almost five decades. Sales of its running gear have grown 26 percent a year since 2010, more than double the pace of the company on a whole. What's making the difference? Its new lightweight Flyknit sneakers and a burgeoning apparel line.
Gadgets: Keeping score matters—even on just a run around the block. Nike has lured 20 million people onto its ecosystem of digital performance metrics. The company's Nike+ platform has given rise to a bevy of apps and a new line of gear, including SportWatch and FuelBand. Another 15,000 people are signing up daily, and the company says its proprietary points system of measuring activity has become "the currency of movement."
Trick plays: For a big player, Nike is proving surprisingly agile and creative. Socks, for example, have become a $100 million business for Nike. Who thought kids would save their lawn-mowing bucks for a $35 pair of socks? Another surprise score: Russia. The host country for the upcoming Winter Olympics is already one of Nike's fastest-growing markets, with almost $1 billion in annual sales.
Weaknesses
Women: Nike has clearly been schooled a bit by relative newcomers such as Lululemon and Gap's Athleta. Women's apparel and shoes account for only 1 out of every 4 of Nike's sales dollars in North America.
China: Watch the head-fake here. Nike talks about "huge potential" and how passionate the Chinese are about sports. But Nike's China sales dropped 3.4 percent last year. Yesterday it said it's "resetting" in the country by focusing on sales in specific cities. Take a lap.
Digital: Nike talks a big online game, but it didn't launch a Web portal in Brazil until last week, which seems late considering that Brazil is on the cusp of being the company's No. 3 market. And in Japan, where it garners almost 4 percent of its sales, Nike's Web store won't go up until next month. Last year only 2 percent of its sales came from its Web platform, a metric it hopes to push to 6 percent by the end of 2017. The e-commerce field is still pretty wide open, but Nike could stand to pick up the pace online.
Before it's here, it's on the Bloomberg Terminal.
LEARN MORE