The Dollar Store's Food-and-Cigarettes Strategy Is Working
By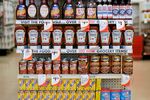 Last year, Family Dollar decided it sold enough cheap detergent and school supplies—what it needed was food and cigarettes. Its research found that many of its customers smoke, and smokers tend to make frequent trips to buy cigarettes—maybe they'd pick up some groceries and whatnot while they were there. Food is also something people buy frequently, so the combination hopefully would boost traffic. So the discount chain teamed up with McLane, a grocery and tobacco supplier to convenience and drug stores, to add refrigerated and frozen foods such as DiGiorno Pizza, Eggo Waffles, and Stouffer's Lasagna. So far, it's working.
The company reported on Wednesday that in the past year, "sales were strongest in the consumables category," which includes food and tobacco as well as health and beauty aids, paper products, household chemicals, hardware, and pet supplies. The category, by far the company's largest, increased 16.9 percent, to $7.5 billion, in the 12 months ended in August—driven primarily by strong growth in food, tobacco, and health and beauty aids.
The discount chain's typical tobacco sale is $13. About 60 percent of shoppers who buy tobacco buy an additional $4 worth of goods, explained Chief Operating Officer Michael Bloom last year. That's a boon to a store where many items are $1 or less, and most items are less than $10.
"The reason we did tobacco was to help solidify our refrigerated and frozen food supply chain, and it has done that," Bloom said on Wednesday.
The 7,900-store chain plans to tweak its food assortment every year based on consumer feedback. Tantalizingly, Chief Executive Howard Levine did hint at "a major food set coming that will impact the back half of our year."