The Balance of Global Corporate Power Is Sliding Eastward
Christina Larson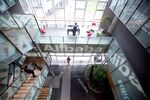 Here in Beijing, it's possible to wonder which would be more calamitous worldwide: Uncle Sam shutting down for more than a week, or Google doing so?
Admittedly, folks in China are far removed from the most direct impact of the U.S. federal shutdown, and inside the U.S., there's no question that the Centers for Disease Control and Prevention is still more important than Google Maps and Gmail. But it's striking how many professionals around the world, including myself, depend on the everyday services of U.S. companies. While U.S. federal agencies and government websites are hanging up "closed" signs, thankfully their private counterparts are still open for business.
In a related vein, a new report from the McKinsey Global Institute forecasts the economic future not of nations, but of dominant global companies. Today there are roughly 8,000 companies worldwide with annual revenues exceeding $1 billion. Together these heavy hitters generate consolidated global revenue equivalent to 90 percent of global gross domestic product, or $57 trillion. Three out of four of these leading companies are located in developed countries, but McKinsey predicts the balance of power will gradually shift eastward and southward.
Half of all large global corporations are headquartered in the U.S., Canada, and Western Europe, which together account for 11 percent of global population. Meanwhile, only 2 percent of large global corporations are based in South Asia, where 23 percent of the world's population lives.
By 2025, McKinsey predicts another 7,000 companies will surpass annual revenues of $1 billion, and that 7 out of 10 of these emerging companies will be headquartered in the developing world. In particular, the report names Chinese telecommunications giant Huawei, Brazilian aircraft manufacturer Embraer, and Indian industrial conglomerate Aditya Birla Group as examples of emerging titans.
The impacts of the gradual shift won't be felt only in corporate boardrooms. "This geographic rebalancing … will shift more of the world's decision making, capital, standard setting, and innovation to emerging markets," the report says. Perhaps in the future, professionals in the U.S. and Europe may have reason to worry if Alibaba or Tencent halt services unexpectedly for a week.