Teva's Trouble With Generic Drug Competition
By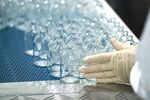 One of the largest makers of generic drugs, Teva Pharmaceutical, will cut about 11 percent of its 46,000-person work force over the next 14 months to trim costs "and to optimize its structure and processes."
The reduction of 5,000 employees, part of a companywide restructuring announced in December, comes as the Israeli drugmaker faces new competition next year for Copaxone, its top-selling multiple sclerosis drug, which accounts for some 40 percent of the company's overall net income.
Sales of Copaxone are likely to reach nearly $4 billion for 2013, then fall by more than $300 million next year as new generic rivals enter the market, according to research by Needham & Co. At least two competitors have generic versions of the treatment waiting for regulatory approvals. And while big drugs goose sales, they also become attractive targets for others—just the sort of business Teva helped to pioneer.
Part of Teva's restructuring aims to refocus the company on its opportunities in the generics field, including "high-value complex generics." Teva also said this week that it plans to double its sales from respiratory drugs, to $2 billion, through 2019.
"Most of Teva's business lines are on a decline," Gilad Alper, an analyst with Excellence Nessuah Securities, wrote on Aug. 1, noting that operating profit and gross margins had dropped. "Although Copaxone will continue to be a cash cow in the near future, its growth days are likely over and the longer-term prospects of Teva seem challenging." He gave management two years at the outside to restructure the company before cash flow from the drug declines.