The Big Bucks in Keeping Kids Focused
Shire gets big profits selling ADHD drugs in the U.S. Now it wants Europeans to embrace them, too
By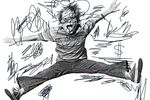 Not that long ago, if Junior didn't pay attention in his classroom, he might be sent to the principal's office or have his parents called in to discuss his "bad" behavior. Today such kids increasingly are being screened for attention deficit hyperactivity disorder, a condition for which diagnoses are soaring across the U.S. Characterized by inattention, overactivity, and impulsiveness, ADHD may afflict an estimated 10 percent of American kids, according to a survey by the Centers for Disease Control and Prevention (CDC), and some researchers link it to drug abuse and an increased likelihood of criminal convictions in adulthood.
That's been great news for Shire, the world's biggest seller of ADHD drugs. More than 90 percent of the Dublin-based company's sales of ADHD medicines are in the U.S., where brisk demand since 2007 helped fuel a more than doubling in U.S. annual revenue for the class of stimulants used to treat the condition. The drugmaker would like to duplicate that success closer to home. But as Shire tries to roll out its flagship ADHD pill, Vyvanse, in eight European countries, it faces an unfamiliar hurdle: convincing people the condition exists. ADHD is diagnosed about 25 times more often in the U.S. than in the U.K. And while attitudes vary by country, many European parents, teachers, and doctors are reluctant to use medication to treat what they see as routine childhood behavioral problems.
"There's been a great deal of resistance to even believing there is a disease," says Mary Baker, president of the European Brain Council, a Brussels-based nonprofit representing doctors, patients, and companies including Shire that work on neurology and psychiatry issues. "Parents are loath to get their child labeled. Children are easy or difficult: That's the diagnosis in society."
Increasing the diagnosis rate in Europe—and the subsequent drug sales that often follow—would be lucrative for Shire, which had $1.8 billion in ADHD drug revenue last year. Vyvanse contributed $1 billion of that, surging 28 percent, and analysts predict the pill's sales will reach $1.77 billion in 2016, according to the average of analyst estimates compiled by Bloomberg. Yet the prospect of drugmakers promoting and then profiting from new drugs for previously unheard-of conditions creates skepticism. "The pharmaceutical industry both helps us and heals us and yet also wants us to consume their products, and that's a fundamental tension," says Ilina Singh, a professor of science and ethics at King's College London and research director at its Institute of Psychiatry. "There's more skepticism of the influence of pharma companies in Europe than there is in America."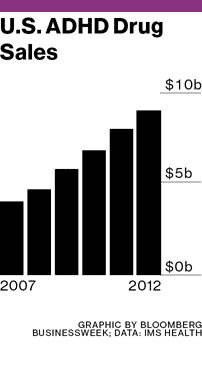 In the U.S., the No. 1 market for prescription medicines, patients and doctors in recent years have embraced new drugs to treat conditions from erectile dysfunction to restless leg syndrome. Almost 10 percent of U.S. school-age children have been diagnosed with ADHD, according to a survey of parents by the CDC. By contrast, Eric Taylor, professor of child and adolescent psychiatry at King's College London's Institute of Psychiatry, estimates that only about 4 of every 1,000 U.K. children have received a diagnosis.
Called Elvanse in Europe, Vyvanse became available this year in the U.K., Ireland, Denmark, and Germany, and will enter the markets in Spain, Finland, Sweden, and Norway in early 2014 as Shire reaches agreements with governments on pricing and reimbursement. One challenge will be fueling demand without advertising to parents. Such direct-to-consumer ads, a mainstay of drug marketing in the U.S., are banned in Europe. Instead, Shire is discussing the prevalence of the illness with doctors at psychiatry conferences across the continent. "The next year to two years is going to be a significant educational effort on our part," says Chief Executive Officer Flemming Ornskov. "The climate in Europe is a bit more negative. It will take us some time."
Vyvanse, a once-a-day medicine, has an edge over other drugs because it's long-acting, releasing its active ingredient slowly into the bloodstream, according to Shire. Methylphenidate, the most common ADHD medicine in Europe and the main ingredient in Novartis's Ritalin and Johnson & Johnson's Concerta, may require more than one dose per day. Shire's older ADHD drugs Adderall, Adderall XR, and their generic equivalents—which account for about 41 percent of U.S. prescriptions for such therapies—aren't approved in Europe.
Critics say U.S. doctors overdiagnose ADHD and too readily treat even mild cases with medication. Sami Timimi, a British child psychiatrist who wrote Rethinking ADHD: From Brain to Culture, says he worries Europe is heading down the same path. He warns of a trend of medicalization, a tendency to regard child behavior as a medical condition. "The first-line treatment for all people should be psycho-social approaches," Timimi says. "We don't have any evidence that short-term benefits of medication can be sustained."
There are signs of attitudes shifting in Shire's favor. In July the U.K.'s health-cost regulator set standards for the diagnosis and treatment of ADHD, clarifying which symptoms need to be present to receive a diagnosis and how severe those symptoms must be before pills can be prescribed. The U.K. often acts as a bellwether for Europe in medical matters.
Vyvanse also may get a boost in 2015 when the World Health Organization's International Classification of Diseases is revised, says Goldman Sachs analyst Keyur Parekh. The classification is used as a treatment guideline in Europe, much as the American Psychiatric Association's Diagnostic and Statistical Manual of Mental Disorders (DSM) is used for psychiatry in the U.S. The revision probably will align the stricter international guidelines with those in the DSM, which should help Shire's ADHD business, Parekh wrote to clients in May.
While the U.S. still dwarfs Europe in sales of ADHD drugs, the rest of the world has been catching up. The U.S. today consumes about 66 percent of the global supply of ADHD medications (which includes pills); in 2007 it consumed 83 percent, according to a study published this year by researchers at King's College London. Meanwhile, Scandinavian countries now outpace the U.S. in growth of ADHD prescriptions, according to medical data tracker IMS Health.