Meredith Whitney Wants to Invest Other People's Money
by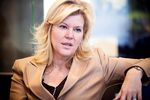 Meredith Whitney, the bank analyst who became famous for identifying problems at Citigroup and other institutions ahead of the financial crisis, has shut down the brokerage and research arms of the firm she founded with her newfound prominence. The news, first reported by Bloomberg's Max Abelson and Michael J. Moore, comes after a report in the Wall Street Journal earlier this summer that the number of research clients at the Meredith Whitney Advisory Group had fallen by more than half, as Whitney struggled to duplicate the insights that had proved so prescient in 2007.
Papers filed with the Financial Industry Regulatory Authority now list Whitney as the chief investment officer at a hedge fund, possibly to be called Kenbelle Capital. Investing other people's money would be a big shift for Whitney, whose prediction in 2010 of "hundreds of billions of dollars' worth of defaults" in the municipal bond market did not come true.
Whitney spoke to Bloomberg Businessweek this summer, as the fifth anniversary of the collapse of Lehman Brothers approached. Not all of her comments could fit in the magazine. One answer that didn't make the cut came when I asked her whether, in light of her correct take on Citigroup and (as yet) incorrect take on muni bonds, a person learns more from a right call or a wrong call. "I don't know the answer to that," Whitney said, after a pause. "I learn every day. A wrong call is something that should change you fundamentally. I hope you learn more from a wrong call."
Another surprise from that interview: that despite seeing trouble in the banking industry, Whitney's personal wealth took a beating in the market along with everyone else. "I think I lost between a quarter and a half a million dollars on financial positions," she said. "I rode Lehman all the way down to zero. It's pretty ironic, right? That, I don't think anyone knows."
Before it's here, it's on the Bloomberg Terminal.
LEARN MORE