Keeping Tabs on America's Moonlighters
By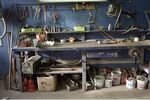 Freelancers in the U.S. number somewhere between 17 million and 42 million, depending on whom you ask and which kinds they include in their figures. Does a teacher who sells Avon products on the weekend count? What about a retiree with an Etsy account? Whether or not those workers are defined as freelancers, they almost certainly fit another important category: part-timer. According to research published by the Internet Association yesterday, part-time business owners generated $156 billion in sales in 2011. They also paid out $904 million in wages.
To conduct the study, researchers surveyed more than 10,000 part-time business owners and painted a pretty nuanced picture: 73 percent had other sources of income, and 47 percent had full-time jobs. The most popular fields were "collectors, crafts, technical consultants, and music," in that order. Less than half had college degrees.
What's less interesting is the survey's headline finding: 90 percent of part-time businesses "rely on the Internet a lot or a little." The Internet Association is a public policy group that counts EBay, Yahoo, and other tech giants as members, so it's not surprising it focused on how the Internet is helping part-timers.
There's little question, either, that the Internet has been a boost: On average, survey respondents collected 51 percent of revenue online. Using social media or e-mail for business was enough to meet the threshold for reliance, says Michele Salomon of Harris Interactive, which conducted the research. For that matter, it's a wonder the survey turned up 10 percent of part-time business owner that don't rely on the Internet at all.