Is Gap Blaming Washington for Its September Sales Shutdown?
by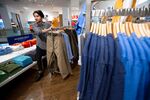 Fallout from the government shutdown appears to have crashed into Gap and its two complementary brands, Banana Republic and Old Navy. At least that seems to be how apparel executives see it.
Gap said September sales slid 3 percent from the year-earlier period as shoppers disappeared in the days leading up to the federal impasse. Katrina O'Connell, vice president of investor relations, blamed the poor performance on increasing "economic uncertainties" in a statement issued late on Thursday.
Results were particularly ugly at Banana Republic, where sales fell by 5 percent. Gap stores posted a 3 percent drop, and Old Navy revenue declined by 2 percent.
Blaming Congress, however, seems a bit of a crutch. The results showed a telling sign: Menswear sold better than women's clothing at all three store brands, according to O'Connell. The shutdown undoubtedly makes some shoppers skittish, but Gap will be in much bigger trouble if its fall line for women is a big miss.
Before it's here, it's on the Bloomberg Terminal.
LEARN MORE