How the GOP Squandered Its Best Opportunity Yet to Bash Obamacare
By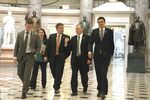 A new Gallup poll found Americans now have the lowest regard for the Republican Party since Gallup started asking in 1992: Sixty-two percent reported an unfavorable opinion of the GOP, compared with 49 percent for Democrats, as the government shutdown forced by House Republicans drags on.
It wasn't supposed to be this way. If not for the shutdown, the biggest U.S. news story of the last 10 days would have given Republicans a strong hand to play: the rocky rollout of the Affordable Care Act's insurance exchanges.
The Right has been attacking Obamacare since before it became law in March 2010. So when millions of Americans on Oct. 1 tried to log on to healthcare.gov and state insurance marketplaces only to be met with delays, glitches, and mass confusion, it was as if the GOP had been handed a big gift. Americans were more tuned in to health reform than ever before, and the White House demonstrated that its technology wasn't up to snuff—yet the nation's front pages bore picture after picture of tourists and veterans shut out of national monuments.
Then, as it became clear the federal exchange's tech problems were deeper than servers overwhelmed by high demand on opening day, conservatives began floating the idea that defaulting on federal debt might be no big deal. The contrast for Americans was stark: The Obama administration failed to smoothly launch a complex technical program. That's bad. Some Republicans seemed willing, even eager, to put the full faith and credit of the U.S. government at risk. That's worse.
And there's still no end in sight. Every minute that pundits carp on air about the shutdown and the threat of default is a minute they're not talking about the difficult first weeks of President Obama's signature domestic policy. The folks at Gallup may have yet more records to set.
Before it's here, it's on the Bloomberg Terminal.
LEARN MORE