Corporate America Wins More Confidence Than Government
by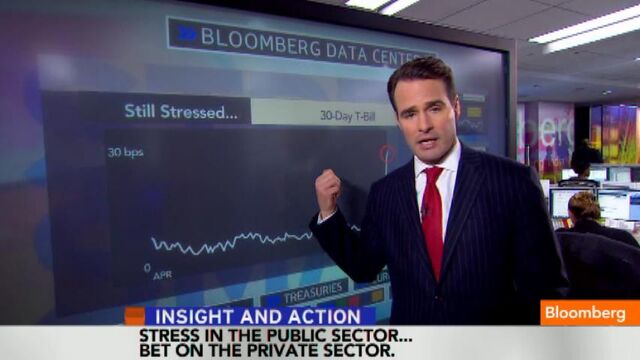 The government's inability to problem solve undermines the traditional safe haven appeal of government instruments, from T-bills to the dollar. Investors usually flock to 30-day T-bills as a place to hide during times of exceptional stress. Not now, however. Investors are demanding significantly more return to hold government paper, with a premium of 28 basis points today compared to 3 basis points nine days ago.

While Wall Street legends like Pimco's Bill Gross and Nuveen's Bob Doll assure us default won't happen, credit default swaps on U.S. sovereign debt have added 22 basis points today, reaching the highest level since the U.S. debt downgrade in August 2011.

Jens Nordvig, a currency strategist at Nomura Holdings Inc., writes this morning:
"We still think a solution before the October 17 deadline is most likely (70 percent likelihood)... [though] if the statutory limit is not raised soon, the government, as well as financial market participants, will face a limited number of highly adverse alternatives, the worst-case scenario being a default."
My response: forget the public sector and bet on corporate America instead.
In fact, we can even get paid as we await a solution. We're looking at two bond ETFs: the iShares Investment Grade Corporate Bond fund (LQD ) and the iShares High Yield Corporate Bond fund (HYG ). Each pays a monthly dividend and is diversified into hundreds of individual bonds of U.S. corporations. Defaults are at all-time lows.
In America we trust. Washington is a different story.


Before it's here, it's on the Bloomberg Terminal.
LEARN MORE