business
A Synthetic Heart That Keeps on Ticking
After decades of research, Carmat reaches a make-or-break moment
By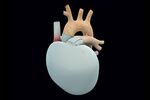 More than three decades after doctors successfully implanted a temporary artificial heart, such devices are still used primarily as stopgaps to keep patients alive until they can get a transplant. They can't save a person whose heart has totally failed. Now French device maker Carmat may be nearing a longer-lasting synthetic heart, the product of an unusual 20-year partnership between a prominent heart surgeon and an arms manufacturer.
Four test patients suffering from terminal cardiac failure will soon receive Carmat's heart, approved for human trials in France on Sept. 23 after lengthy delays. Designed to resemble a human heart, the 900-gram device has two ventricles, each divided by a membrane of sterile, chemically treated calf tissue that helps head off blood clots, a common problem with cardiac prostheses. Two motorized pumps flex the membrane, sending blood from the ventricles into the arteries. The device is regulated by embedded sensors and other electronics powered by external, wearable lithium ion batteries. (Think Iron Man without the glowing chest piece—or the bootjets.) Carmat says it should last at least five years, or about 230 million heartbeats.
Some of Carmat's staffers have been working on the project for 20 years. In 1993 cardiac surgeon and heart valve developer Alain Carpentier pitched his concept for a sustainable, fully artificial heart to Jean-Luc Lagardère, the chief executive officer of Matra, a company that made missiles and satellites. Billionaire Lagardère put a few labs and moonlighting aerospace engineers at Carpentier's disposal and gradually expanded the project over the years, including through the megamerger that created European Aeronautic Defence & Space. EADS spun off Carmat in 2008, a few years after Lagardère's death, amid production delays on one of its jets. (EADS retains a 30 percent stake.)
Elements of Carmat's heart have been around for a while; its calf tissue design bears similarities to heart valves Carpentier built in the 1970s. But it's the sophisticated industrial equipment from Matra and EADS that made the heart design possible, says Carmat board member Philippe Pouletty. Most medical device makers don't have the necessary technology, says Pouletty. "It's more common in aerospace, where a satellite must work for years with no human intervention, and the nose or the electronics of an airplane operate thanks to complex software."
The synthetic heart, which has been tested on calves, adjusts blood flow when the recipient climbs stairs or tucks into bed, says Chief Operating Officer Patrick Coulombier. Software modeling helped Carmat engineers design and test the components and simulate how they would work in the human body. One of the most advanced simulations tested bloodstream flow through the heart in emergency situations such as a hemorrhage. There's no margin for error, says Pouletty: "An airplane cannot be fixed once it's flying, and the same goes for a heart once it's inside a person."
The French trials are also a make-or-break moment for Carmat, which is training teams to perform the roughly three-hour-long implant operation. Carmat estimates it will sell the heart for about €160,000 ($218,000). With more than 100,000 cardiac patients awaiting transplants from a supply of about 4,000 human hearts, the company's stock has almost quintupled in the three years since its initial public offering. An estimated 23.3 million people will die each year from cardiovascular disease by 2030, up from 17.3 million in 2008, according to the World Health Organization. But if Carmat's trials fail or patients struggle with the heart's cumbersome rechargeable power supply, the consequences for all involved may be dire. "Investors have been very generous with Carmat," says Xavier de Villepion, a sales trader at Global Equities in Paris. "It could be a huge success or a disaster."
Before it's here, it's on the Bloomberg Terminal.
LEARN MORE