Why Some MBAs May Not Be Cut Out for Startups
Roxanne Hori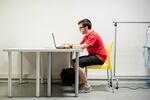 Startups are hot. This has been the case for a while, but it seems that over the past few years, more students have had the confidence to pursue this route. Many more students are interested in working for a startup or creating their own. Wharton is a good example: The number of MBAs starting their own businesses at graduation has nearly tripled in five years, and the number of students working internships at startups increased nearly 15 percent in just one year.
In my experience traveling with students to visit startups, they have always been impressed by the coolness of the companies they visited as well as the ability of those teams to take an idea and run with it. What students take away from these visits includes everything from inspiration to start their own company to recognizing that they aren't cut out for the world of startups.
I recently read an article on LinkedIn by Thomas Eisenmann, a professor at Harvard Business School, on MBAs and startups. He shared some great insights after conducting a focus group of HBS alumni running startups, including some way that MBAs are often a bad fit for early-stage companies.
It is important to note that not all startup environments are the same. They can vary greatly depending on industry and where they are in terms of growth. The larger the organization gets, the more processes it has to put in place. Chegg, the textbook rental company, did things differently as a startup with 20 employees than it does today, as a company with approximately 300 employees and plans to go public. I suggest that you spend time getting exposure to a broad spectrum of startups, from those that are brand new to some larger, more established companies. Take time to talk with classmates who have that experience, ask faculty for ideas, or go visit one in person. You don't need to fly to San Francisco or New York to do this. Startups are all around you, regardless of the city in which you are based.
It's also important to know if you are really cut out for a startup experience vs. a traditional MBA employer. Are you flexible, comfortable with ambiguity, and able to roll with the punches? In many new startups, there aren't a lot of processes, and people work like mad to develop a product that often gets scrapped—only to start all over again. If you need a clear sense of direction, a well-defined role, and balanced workload, this may not be the space for you.
On the other hand, while startup environments can feel unstable, they also offer a very real sense of purpose and a deeply rewarding experience. If you've got passion for a certain product or service, you might find a happy home amid all that chaos.
In my next blog, I'll share some pointers on how to be effective with a job search focused on startups.
Join the discussion on the Bloomberg Businessweek Business School Forum, visit us on Facebook, and follow @BWbschools on Twitter.