Why American Courts Can't Cure Haiti's Cholera Tragedy
Paul M. Barrett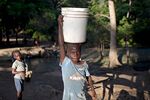 Will American-style litigation ease the suffering of Haitian cholera victims? That's the question posed by an extraordinary and troubling lawsuit that is expected to be filed this morning in federal district court in New York.
Among Haiti's biblical-scale woes is a cholera outbreak that began in October 2010. The disease has killed thousands. Haiti's government, led by Prime Minister Laurent Lamothe, blames the United Nations. Specifically, Haiti alleges that Nepalese U.N. peacekeepers introduced the deadly disease by means of sewage contamination from their barracks at the country's center. The New York Times last year had an impressive interactive graphic on the apparent origins of the misery.
Now a human rights group in Boston called the Institute for Justice and Democracy in Haiti has proposed a distinctively American solution: Sue the bastards. "We are asking the judge to find the United Nations liable," a spokeswoman for the Institute told the Times. "It has violated its legal obligations through reckless actions that brought cholera to Haiti." The suit seeks unspecified money damages for five named victims and all afflicted Haitians.
There are two problems with taking the U.N. to court. First, Haiti desperately needs the nearly 9,000 soldiers and police officers the U.N. maintains on the earthquake-ravaged island. Without outside help, paid for by outsiders' dollars, even worse chaos would swiftly descend on Haiti. Suing the U.N. hardly seems like a savvy strategy for securing continued support from the rest of the world.
Second, litigation has a peculiar and distorting dynamic that tends to distract attention from the underlying human issues it's meant to address. In this case, the U.N. will defend itself by asserting its well established diplomatic immunity in the United States from any negligence claims. (Law nerds can check out the 1946 Convention on the Privileges and Immunities of the United Nations.) Although it hasn't formally acknowledged liability for cholera in Haiti, the U.N. has said it wants to help eradicate the disease there. Indeed, it's the U.N. and other outside organizations that are in the best position to provide medical aid on the ground to those who are suffering and to install the plumbing needed to prevent further spread of cholera.
Even assuming that the U.N. inadvertently played a role in exacerbating Haiti's health troubles, do we really want American lawyers arguing in a courtroom in Manhattan over which bereft islanders should get how much cash to compensate for incalculable losses? Who would parcel out that money? Would it buy medicine or end up in the pockets of profiteers and criminals? Rather than divert resources to an abstruse court battle, with the inevitable distraction of grandstanding attorneys, serious humanitarians ought to collaborate on getting more doctors and engineers into the Haitian countryside—now.
Before it's here, it's on the Bloomberg Terminal.
LEARN MORE