Waiting for Washington: An Existential Playwright Couldn't Script This Standoff
By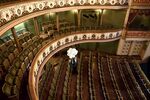 What's the difference between the stalemate in Washington and Waiting for Godot? Easy. One is an existential drama of characters who drift through life without purpose on a bleak stage, waiting for a resolution that never comes. And one is a play by Samuel Beckett.
Only an absurdist playwright could do justice to the goings-on in Washington. In fact, Beckett did it in 1953. Waiting for Godot had its premiere that year and has been revived countless times since (including in a Broadway production starring Ian McKellen, Patrick Stewart, Billy Crudup, and Shuler Hensley that begins previews later this month). The play can be frustrating to watch. "Nothing happens. Nobody comes, nobody goes. It's awful," says one of the hapless characters, Estragon. "Let us not waste our time in idle discourse!" says his fellow lost soul, Vladimir. "I don't like talking in a vacuum," gripes the tyrannical Pozzo.
See if these quotes sound Godotish: "We've been waiting a week," says Senate Majority Leader Harry Reid (D-Nev.). "And that's where we're at and we're waiting," says Representative Renee Ellmers, a North Carolina Republican. "This isn't some damn game," says House Speaker John Boehner (R-Ohio).
Senator Ted Cruz, a Texas Republican, seemed to be auditioning for a role in Beckett's play when he gave a speech on the Senate floor that lasted 21 hours and whose purpose was . . . well, a bit obscure. Cruz had said before the speech that "a vote for cloture is a vote for Obamacare," but then voted for cloture himself.
Beckett could have staged the press conference at which eight House Republicans called in reporters to watch them sit on one side of a long table, supposedly waiting for their Democrat counterparts to come along and sit on the other side. "As you can see, there's no one here on the other side of the table," said House Majority Leader Eric Cantor of Virginia.
Yes, Congressman, we see that.
Here, to conclude, is an interchange from This Week on ABC News:
STEPHANOPOULOS: When is this going to end?

BOEHNER: If I knew, I would tell you.
As Vladimir says in Waiting for Godot: "This is becoming really insignificant."
Before it's here, it's on the Bloomberg Terminal.
LEARN MORE