Unemployment Insurance? For the Furloughed, It Might Just Be a Loan
By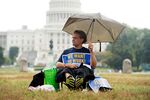 When you call the main hotline for the Virginia Employment Commission—if you can get through—one of the first things you'll hear is a question asking if you're a federal employee looking to file a claim. The message suggests callers check out the agency's website, which has posted information for the furloughed front and center. Idled government employees would be wise to scroll to the bottom of the Q&A, where there's a big caveat covering the benefit: Turns out it's more like an interest-free loan.
If furloughed workers later get retroactive pay from their employers, a measure with support in Congress for those directly employed by the government, Virginia will send out bills seeking full repayment of the benefit money. "You would handle like we do anybody else who has been overpaid," says Joyce Fogg, spokeswoman for the Virginia Employment Commission. "You keep trying to collect the money, and if you don't get it, you go to court. Hopefully people can pay it back." She says the state offers payment plans if repaying all at once is too difficult.
If workers don't get repaid later—an outcome that seems more likely to affect private-sector contractors than federal employees—they can keep the benefits in full. In Virginia, the maximum unemployment insurance coverage is $378 a week, far less than the wages for many contractors. "I'd take the wages, too, over the employment benefit," says Fogg.
Already thousands of employees have applied for coverage. In Virginia, for example, 959 federal workers submitted claims on the first five business days of the shutdown, according to Fogg. That figure doesn't include contractors who have been furloughed. All told, she said, the state saw 3,500 more claims last week than the average for the five prior weeks. In Maryland, meanwhile, more than 16,000 furloughed workers have filed claims, according to the Baltimore Sun—four times the typical rate.
Enrollments in the state benefit programs could change over time. The numbers will shrink if workers are recalled to work and want to cancel their applications, which Fogg says happened some yesterday. But if additional furloughs come, expect the numbers of workers-turned-borrowers to grow even more.
Before it's here, it's on the Bloomberg Terminal.
LEARN MORE